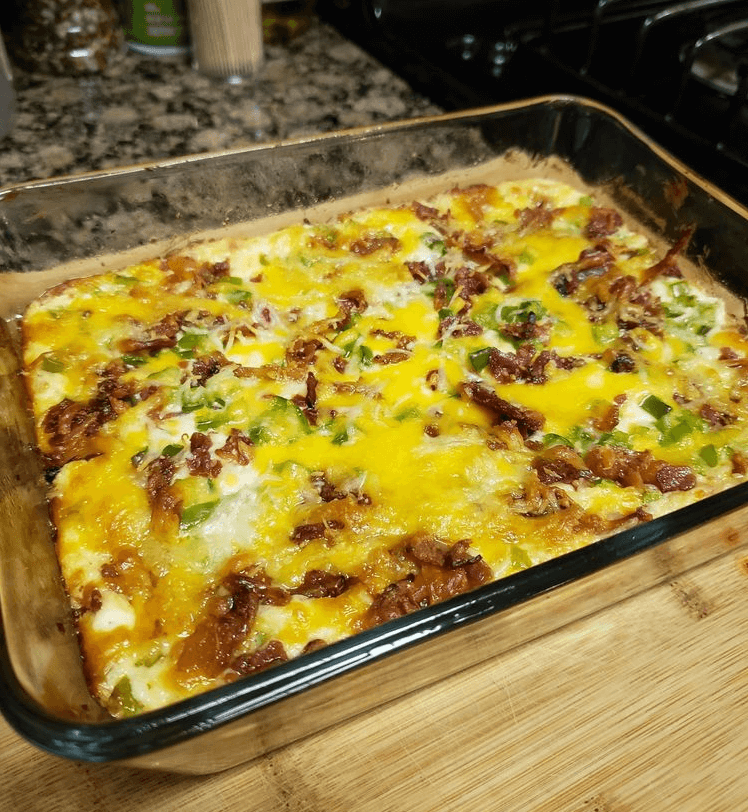 So the story goes that Trisha Yearwood (country music artist turned celebrity chef) was once given this dip in a hotel gift basket in Charleston, South Carolina and she loved it so much that she went on to recreate the recipe herself. And we can't say we blame her. With plenty of cheese, crispy bacon, and buttery cracker breadcrumbs, there's a whole lot to love about it.
It's the creamiest, cheesiest kind of dip, the kind that always gets devoured first when it's set out at a party. It starts with cream cheese and mayo for a creamy base, and that's followed up with two kinds of cheese – Monterey and cheddar – and a touch of cayenne pepper and green onion. That all gets topped with crushed Ritz crackers before the whole thing heads into the oven to get nice and bubbly.
Oven baked dips are always the hardest to resist, aren't they? The fact that this one is topped with crumbled bacon makes it even more irresistible. It's an easy dip to put together (we're talking mere minutes) and it's popular at any gathering. It's easy to see why Trisha Yearwood loved it so much!
INGREDIENTS
1/2 cup mayonnaise
1 (8 oz) package cream cheese, softened
1 cup sharp Cheddar cheese, grated
1/2 cup Monterey Jack cheese, grated
2 green onions, finely chopped
1/4 teaspoon cayenne pepper
8 butter crackers, such as Ritz, crushed
8 slices bacon, cooked and crumbled
Crackers, for serving
PREPARATION
Preheat oven to 350°F.
In a medium bowl, mix together the mayonnaise, cream cheese, Cheddar and Monterey Jack cheeses, green onions, and cayenne pepper.
Spread mixture into a shallow baking dish and top with crushed crackers. Bake until heated through, about 15 minutes.
Top with cooked bacon and serve with crackers. Enjoy!