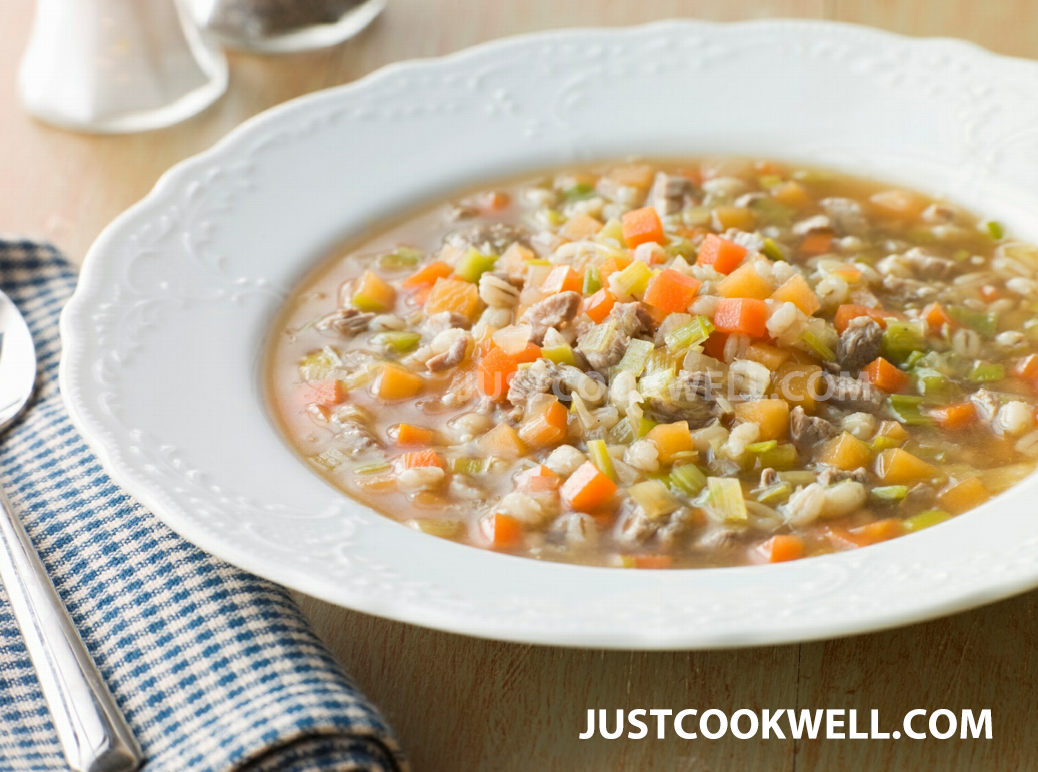 Scotch broth is a humble potage of lamb, vegetables, split peas and barley. My family have always loved making it during chilly winter nights for some much needed internal warmth. Grains and pulses soaked overnight cook faster and have better texture. Soaking also improves the bioavailability of trace minerals. Enjoy this vintage thick soup recipe with long-simmered bits of lamb and the goodness of barley and split peas.
Serves 10–12 | Prep. time 15 min. | Cooking time 1 hour 30 min.
Ingredients
½ cup split peas
2 tablespoons butter, melted
1 cup hulled barley
1 tablespoon apple cider vinegar
1 large lamb shank
2 celery ribs, diced thing
2 cloves garlic, minced
1 large yellow onion, diced
2 medium carrots, peeled and diced thin
1 cup turnip, diced thin
2 bay leaves
1½ teaspoons dried thyme
3 quarts water, plus more as required
2 teaspoons sea salt
Black pepper to taste
Directions
Soak the barley with 1 cup of warm water and the cider vinegar in a bowl.
Add the split peas to a separate bowl and pour warm water to cover.
Set both bowls aside to soak for 12–24 hours.
Drain and rinse the barley and peas with cold water.
Heat the butter over medium heat in a large cooking pot.
Add the lamb shank and brown evenly. Remove and set aside.
Add the carrots, celery, turnip, onion and garlic and stir-cook for 4–5 minutes until softened and translucent.
Return the lamb and add the water, bay leaves and thyme. Mix in the barley and split peas.
Bring to a boil, then reduce heat to low, cover and simmer for about 1½ hours, until the meat is cooked well and easy to shred.
Remove the lamb. Add the kale to the pot and cook for 6–7 minutes until softened.
Shred the lamb meat and return it to the pot. Season with some salt and black pepper.
Serve warm with some chopped parsley on top.