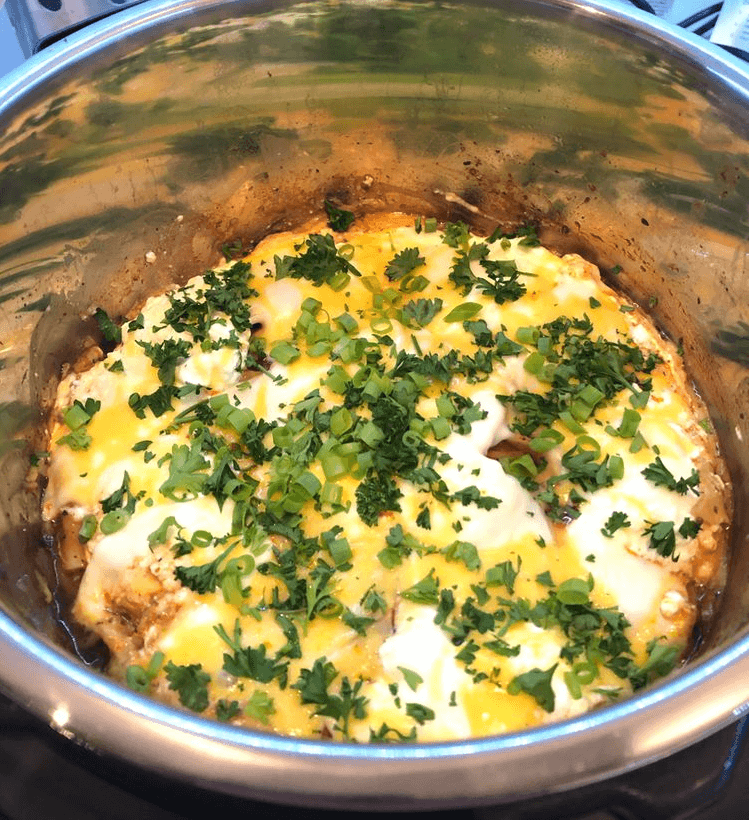 When I think "comfort food," my mind immediately goes to lasagna. There's just so much to love about layers of creamy ricotta, meaty marinara, and perfectly al dente noodles. And while making a classic lasagna from scratch is best reserved for weekend cooking, it's possible to get all that cheesy goodness on a weeknight, thanks to your Instant Pot.
Instant Pot lasagna turns the hours-long project into a much shorter affair. (It's no wonder the Pinterest community has dubbed the method "lazy lasagna.")A jar of store-bought marinara eliminates the need for a long-simmered sauce, and most of the cook time is hands off. This recipe makes enough lasagna to serve six to eight people, but if you're serving less, leftovers keep well in the fridge for days. And leftover lasagna for lunch sounds pretty great right about now.
INGREDIENTS
1small yellow onion
3 clovesgarlic
10 ouncesdried lasagna noodles (about 11)
2 tablespoonsolive oil
1 1/2 poundslean ground beef
2 tablespoonstomato paste
1 tablespoondried Italian seasoning
1/2 to 1 teaspoonred pepper flakes
2 teaspoonskosher salt, divided
1/2 teaspoonfreshly ground black pepper, divided
1 (24 to 25-ounce) jarmarinara sauce
3 cupswater, divided
1 cupwhole-milk ricotta cheese
1/2 cupgrated Parmesan cheese
4 ouncespart-skim mozzarella cheese
2 tablespoonsfresh parsley leaves
INSTRUCTIONS
Select the Sauté function on a 6-quart or larger Instant Pot or pressure cooker. Meanwhile, dice 1 small yellow onion, mince 3 garlic cloves, and break 10 ounces lasagna noodles (about 11) into thirds and set aside.
Add 2 tablespoons olive oil to the Instant Pot and heat until shimmering. Add 1 1/2 pounds lean ground beef and cook undisturbed until the bottom is browned, about 4 minutes. Break up the beef into pieces with a wooden spoon and continue to cook until browned all over and cooked through, about 6 minutes more.
Add the onion and garlic and cook until softened, 4 to 5 minutes. During the last minute of cooking, add 2 tablespoons tomato paste, 1 tablespoon dried Italian seasoning, 1/2 to 1 teaspoon red pepper flakes, 1 teaspoon of the kosher salt, and 1/4 teaspoon of the black pepper. Cook until the tomato paste darkens in color, about 1 minute.
Add 1 jar marinara sauce, 2 cups of the water, the remaining 1 teaspoon kosher salt, and the remaining 1/4 teaspoon black pepper. Stir and scrape any browned bits from the bottom of the pot. Layer the broken noodles in different directions on top of the sauce. Press down on the noodles until they are just barely submerged in the meat mixture. Pour in the remaining 1 cup water and stir gently again to incorporate, making sure the noodles are covered with a little bit of liquid.
Lock on the lid and make sure the valve is set to seal. Cook under HIGH pressure for 5 minutes. It will take about 12 minutes to come up to pressure. Meanwhile, stir 1 cup ricotta cheese with 1/2 cup grated Parmesan cheese together in a medium bowl. Shred 4 ounces part-skim mozzarella cheese and coarsely chop 2 tablespoons parsley leaves.
When the cook time is up, let the pressure naturally release for 10 minutes. Quick release any remaining pressure.
Dollop the ricotta mixture over the lasagna and sprinkle with the mozzarella. Place the lid back on and let sit for 10 minutes for the cheese to melt. Garnish with the parsley and serve.