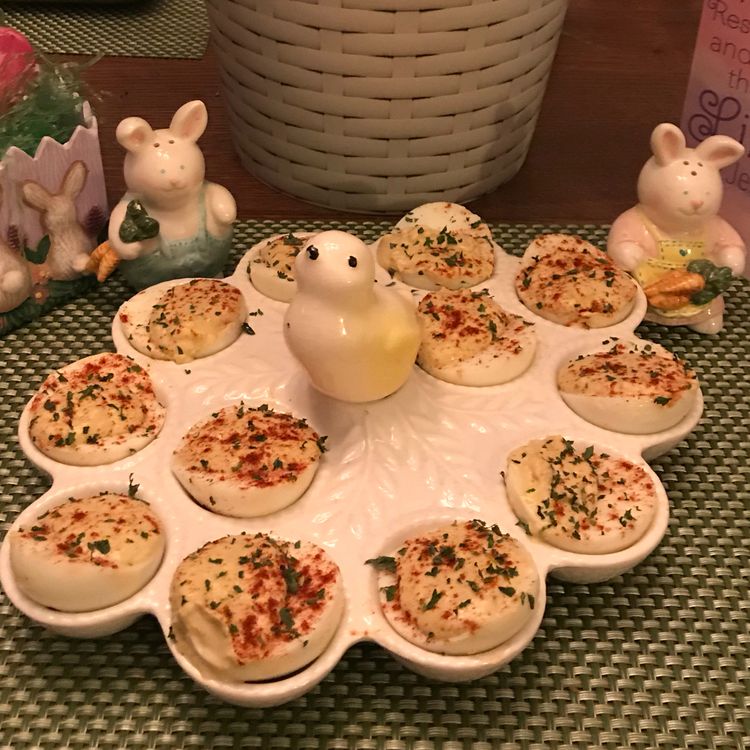 These were very good, but overshadowed by the 3 other types of deviled eggs on the platter with it (traditional, southwest (my husband's invention) and the garam masala recipe from this site). My husband got a little carried away with the tarragon, which was a little strong, but without that, these would have been very good.
These were a huge hit at my Easter cocktail party. I did not use the full amount of olive oil and they came out perfectly. I just mixed until it looked right. Very good and will definitely be making again!
Ingredients : 
6 hard-boiled eggs
2 tablespoons extra-virgin olive oil
1 tablespoon mayonnaise
1 1/2 teaspoons Dijon mustard
2 tablespoons minced celery
4 teaspoons chopped fresh tarragon
1 tablespoon minced drained capers
2 teaspoons minced shallot
Sliced celery
Step 1
Shell eggs, then cut in half lengthwise. Transfer yolks to small bowl and mash with fork. Mix in oil, mayonnaise, and mustard. Stir in minced celery, tarragon, capers, and shallot. Season to taste with salt and pepper.
Step 2
Spoon yolk mixture into whites. Garnish each with celery slice. (Can be made 4 hours ahead. Cover loosely and refrigerate.)