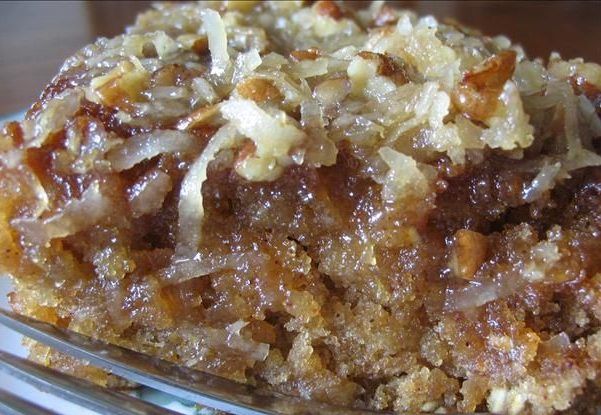 This is a great cake for any sweet tooth. It is good served hot too.
Wonderfully moist and delicious. I made two small cakes instead of one large one and froze one for later. It is especially wonderful when warm or re-heated.
This cake is out of this world. Too bad there isn't a 10 star rating because it deserves it.. I made tis cake 2 weeks ago and have made it 4 time sence then.
This cake is awesome. I made some changes though to some of the ingredients. I used 1/4 cup butter, 1/2 cup sugar, 1 1/2 teaspoon baking soda, 1/4 teaspoon salt, and 1/2 cup of milk and it was perfect.
This cake is sooo great. When it came time for my moms birthday she only had one request. Oatmeal Cake. We have made this cake alot over the past few years and it is always great. I do double the spices though.
Servings: 9
Ingredients:
1 cup uncooked rolled oats ( instant or regular, I used rolled oats)
1 1/4 cups boiling water
1/2 cup butter or 1/2 cup margarine
1 cup granulated sugar
1 teaspoon vanilla
2 eggs
1 1/2 cups flour
1 teaspoon baking soda
1/2 teaspoon salt
3/4 teaspoon cinnamon
1/4 teaspoon nutmeg
TOPPING
1/4 cup butter or 1/4 cup margarine, melted
1/2 cup brown sugar
3 tablespoons cream or 3 tablespoons milk
3/4 cup flaked coconut
1/3 cup chopped nuts (optional)
Directions
In a shallow bowl soak oats in boiling water for 20 minutes.
Meanwhile proceed by measuring butter and sugars into beater bowl and beating until light.
Beat in eggs and vanilla.
Sift and measure flour, sifting again with the soda and spices.
By this time the oats will be soaked and cool.
Remove beaters from creamed mixture and fold in soaked oats.
Sift flour mixture over and fold in.
Turn in a buttered 9×9″ pan and bake at 350°F for 40-50 minutes .
Mix all the topping ingredients.
Do not remove cake from pan but while still hot spread topping over and put under the broiler until bubbly and tinged with gold.
Watch carefully.