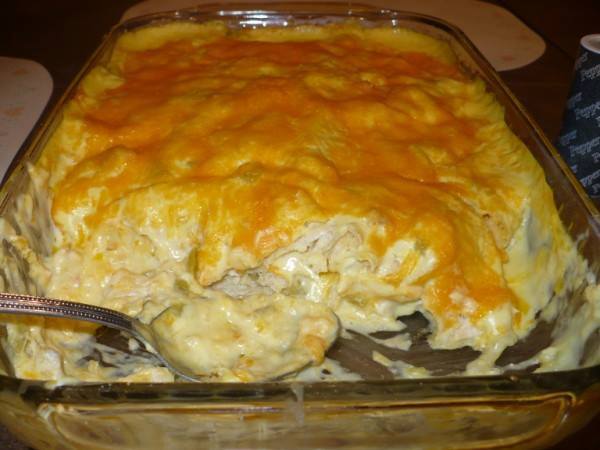 Chicken? Enchilada? Cream? I don't know about you, but when I see those 3 words in the same sentence, I grab my recipe book to note it down! This casserole is a must-try guys, check it out.
I'm happy to share my method for making creamy, dreamy, delicious, nutritious, yummy, nummy white chicken enchiladas.
They'll keep you off the streets, I promise you that much. And don't be intimidated by the multiple steps. They're numerous, but they ain't difficult.
Anyway, back to business: I buy a whole cut up fryer—basically a whole chicken that's been cut up by the butcher. It's best if he does the dirty work.
Ingredients
4 cups diced cooked chicken
1 can cream of chicken soup
8 oz. (1 cup) sour cream
2/3 cup milk
1 (4 oz.) can diced green chiles
2 Tbsp. dried minced onion
1 tsp. garlic powder
pepper to taste
12 corn tortillas
2-3 cups shredded sharp cheddar cheese
Instructions
Spray a 13×9 dish with cooking spray. Preheat oven to 350 degrees.
In a large bowl, combine soup, sour cream, milk, chiles, onion, garlic, and pepper.
Line bottom of 13×9 with 6 tortillas.
Sprinkle with 3 cups of chicken and pour 1/2 sauce over top and spread to cover.
Sprinkle with 1/2 of the cheese. Repeat.
Bake for 30 – 40 minutes or until hot and bubbly.
Let stand 10 – 15 minutes before serving.