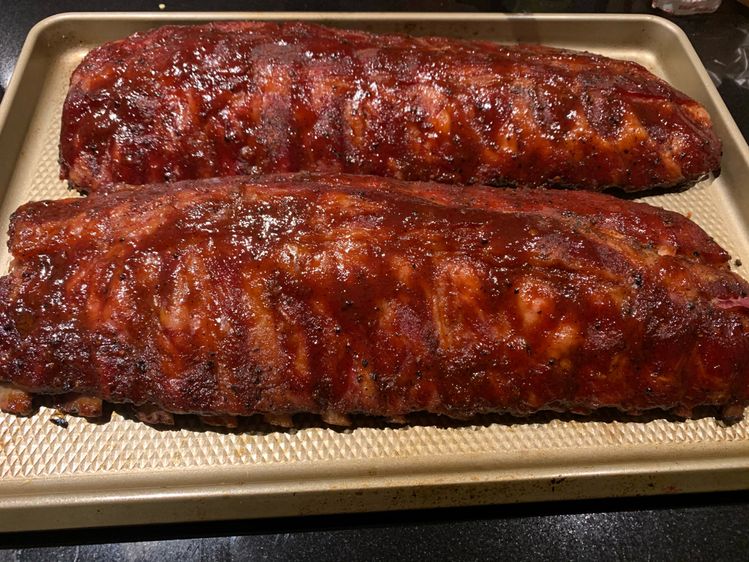 "PORK" enough said! Enjoy these tasty ribs with some potato salad, bbq baked beans, coleslaw, grilled corn on the cob and a nice cold beverage of choice. Happy Cooking and Grilling! sw:)
-WTG on making it on Food Networks All-Star academy! Job well done. I can't wait to see what happens this season. You are such a great cook. I have seen you a couple of times on TV now. Wishing you all the best and good luck on the show.
– you will be staying Sunday nite if you make the final table tho, right? Keeping my fingers crossed for you all…we will figure out accommodations if you make it. I can stay with family there if need be.
-I wish you to both make the final table, Linda and Helene too.
Dang Sherri..guess i should have taken you up on your offer to stay with you Sunday nite sooner , lol…or maybe we can all bunk together if Jane stays thru Monday? I have the golden Nugget booked till Sunday noon.
-Why of course! You should change your ticket any way. The Pillsbury Cook-off is not until Monday. I have quite a few friends competing in that. I don't think I'm gonna make it to the final table, however I want to be there to cheer on my friends. I'm sure one of them will make it. We can party Sunday night. LOL
– you know what is the situation on electric outlets? If I decide to do lasagna need to use pressure cooker, only way to get a decent sauce in that amount of time.
If a miracle happens, can I stay with you if I make it to the final table? Have to change plane but what the heck,
Cook time: 4 Hr Prep time: 15 Min Serves: 10-12
Ingredients
5-6 lb pork baby back ribs
RUB
3 Tbsp kosher salt
3 Tbsp brown sugar
1 Tbsp garlic, granulated
1 Tbsp onion, granulated
1 Tbsp cumin, ground
1 Tbsp chili powder
2 Tbsp paprika, sweet mild
1 Tbsp chipotle powder
1 tsp coriander, ground
1 tsp black pepper
BASTE
2 c apple cider
2 Tbsp olive oil, extra virgin
1 large lemon juice, fresh
1/2 c barbecue sauce
1/2 c jack daniels whiskey
Directions
1. Rub a generous amount of rub on ribs. Make sure they are evenly coated. Wrap ribs with plastic wrap and refrigerate over night.
2. Prepare Grill: I use a propane powered smoker. Soak wood chips for at least 30 minutes. I use a mixture of hickory and oak chips. Fill the water pan with apple cider, beer or liquid of choice. Smoker temperature should be between 250-275 degrees. (If using a charcoal grill, place charcoal and/or wood chunks on one side of the grill and place the water pan underneath the the ribs on the grill rack. Maintain the grill temperature by changing out charcoal and wood as needed.)
3. Baste ribs after the first hour as needed, to keep the ribs nice and moist. Change wood chips every 1 1/2 hours. Smoke for 4 hours until ribs are tender. Remove from smoker and cover with foil.
Last Step: Don't forget to share!