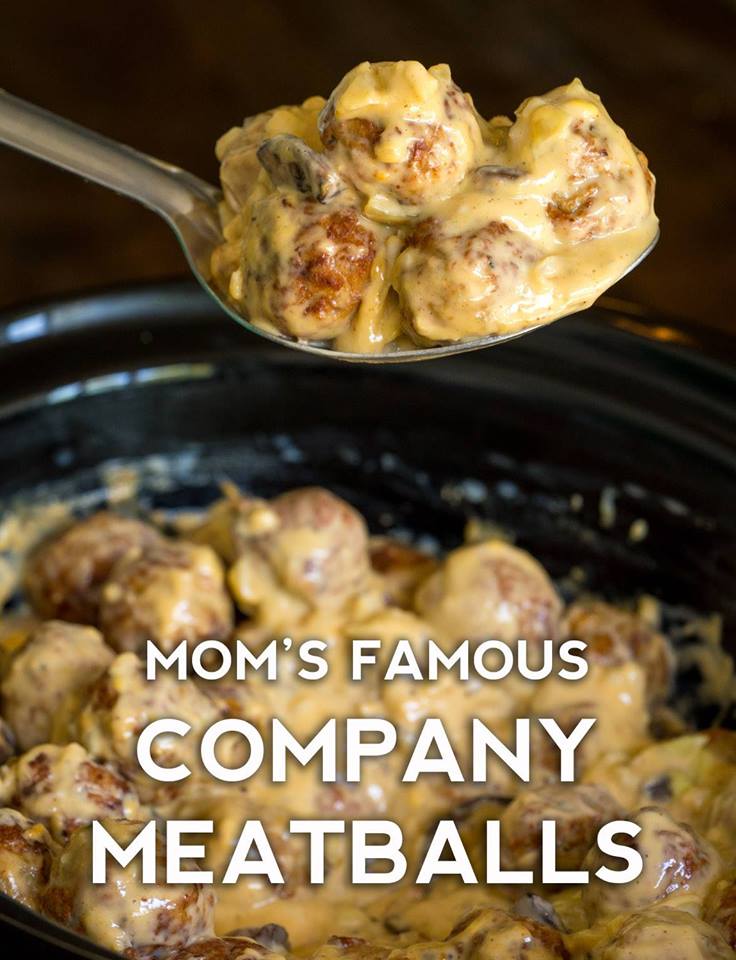 Whoa, this slow cooker dish is ridiculously good – we should know because we've now had two (or more) bowls of it. If at first you look at it and think, "eh, do we really need another dish that seems like a cross between an appetizer and main course in our lives," the answer is undoubtedly, one hundred percent yes, you do need this in your life. These cheesy mushroom meatballs are totally addictive, and basically the perfect choice regardless of whether you're serving them as a party app or plopping them down on a bed of egg noodles that act as the perfect vessel for getting as much of that creamy, cheesy goodness into your mouth as possible.
It's not just how good these taste that makes us love this recipe, it's also how incredibly easy this whole thing is to throw together that makes it amazing. Win-win! You'll need a big bag of fully-cooked, frozen meatballs (feel free to use store-bought or make your own), two cans of condensed cream of mushroom soup, one half pint of sliced mushrooms, 1 onion and a package of velveeta. Now, you either love or hate velveeta; we use it because we find it melts more smoothly, but swap in cheddar cheese if it's not your thing. Problem solved. You guys, all you do is mix everything together in your slow cooker and then turn it on and let it cook, stirring in the middle, for 3-4 hours. That's it!
You've got five core ingredients, plus a recipe that's made by just stirring everything together.
It really doesn't get better than this! Because of the soup and creamy, melty cheese your meatballs stay nice and juicy. Plus, pro tip. If you keep your meatballs at the bottom of the slow cooker and let them cook before stirring everything fully, you'll end up with perfectly browned meatballs that add more flavor and deliciousness to the overall dish. Ahh, it's so good, we're hooked!!
Please continue to Next Page (>) for the full list of ingredients and complete cooking instructions.