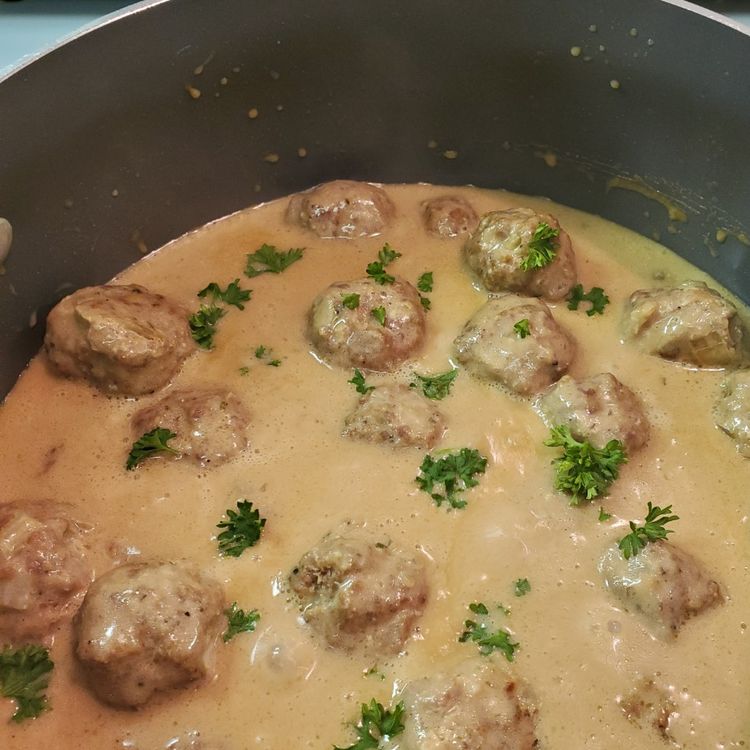 These slow-cooked Swedish meatballs are perfect for busy weekday evenings or an elegant dinner party! Made with homemade meatballs, beef broth, cream and perfectly seasoned, the slow cooker does all the work!
November has arrived and the comfort food season is officially well underway (if we weren't already a month or two ago!).
Meatballs are one of my favorite comfort foods, and I love the number of ways to prepare them! We've been loving these sweet and sour and cranberry slow cooker meatballs for a long time now.
These Swedish Slow Cooker Meatballs are one of my new favorite recipes for several reasons:
The slow cooker is a great way to manage weekday dinners during this crazy season! And Reynolds Kitchens' Slow Cooker liners make cleanup virtually non-existent – done in 8 seconds or less!
They're very original – like my child, I handle sauces, dips and toppings. I like my meat to be covered with something creamy and delicious, and this Swedish meatball sauce definitely does the trick!
It will do a double job: you need an easy meal to prepare during a busy night? Swedish meatballs in the slow cooker! Need a potluck for a festive dinner party? Swedish meatballs in the slow cooker! Need an elegant dish to serve your guests without losing your head? Swedish Meatballs in the slow cooker!
Ingredients
Meatballs
1 pound of lean ground beef
1/2 grated or finely chopped onion
1 large egg
1 tablespoon chopped garlic
1 tablespoon of dried Italian seasoning
1 teaspoon of salt
1/4 teaspoon pepper
Swedish meatballs in the slow cooker
1 1/2 cups low sodium beef broth
1/2 cup half and half
1 tablespoon cornstarch
1 tablespoon Worcestershire sauce
1 teaspoon of chopped garlic
1 teaspoon of dried parsley
1/2 teaspoon of salt
1/4 teaspoon of thyme
1/4 teaspoon pepper
1 pinch of nutmeg
Instructions
Baked meatballs
In a large bowl, mix beef, pork, onion, egg, garlic, Italian seasoning, salt, pepper and egg, without over-mixing.
Preheat the oven to 350 degrees F and cover a baking sheet with parchment paper.
Shape the meat into 1-1.5″ balls and place 1″ separately on the baking tray. (I get about 35 balls of 1.5″).
Bake for 15-20 minutes until internal temperature reaches 160 degrees F.
Set aside to cool slightly. (*At this point, once cooled, you can freeze for up to 3 months for various uses).
Swedish Slow Cooker Meatballs
Place a Reynolds Kitchens Slow Cooker Liner in a 2.5 to 4 liter slow cooker. Place the meatballs in the slow cooker.
Combine the broth, half and half, cornstarch, Worcestershire sauce, garlic, parsley, salt, thyme, pepper, and nutmeg. Pour over the meatballs in the slow cooker.
Cook over low heat until the sauce has thickened – about 4-5 hours over low heat or 2 hours over high heat.
Serve with the sauce over mashed potatoes or egg noodles.