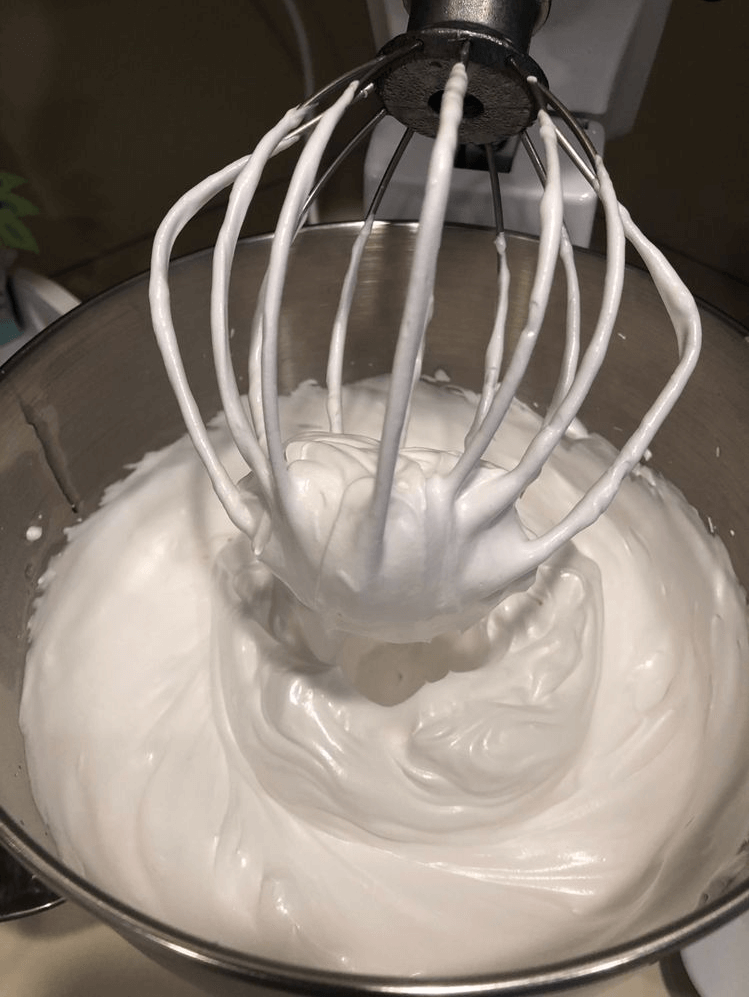 If you're looking for a universally appreciated frosting that has truly stood the test of time, look no further than Seven Minute Frosting. Dating back to the early 1900's, there's nothing like this light and fluffy stuff that looks like marshmallow. In terms of texture and taste, no other frosting is comparable to this one. And because it's a stovetop glaze, it's also a little different from most others. (But don't be fooled into thinking it's difficult. Your grandmother could do it and you can too).
Seven Minute Frosting is cooked in a double boiler on the stovetop, but if you don't have a double boiler, a heat-resistant bowl over a pot of simmering water works just fine. You mix all your ingredients – sugar, water, egg whites, cream of tartar and salt – in a bowl and beat it with an electric mixer for only 30 seconds. Then you place the bowl on a pan of simmering water (but don't touch the water or it will cook too quickly) and continue beating for – you guessed it – seven minutes.
The mixture then becomes thick and shiny. Take it off the heat, add a little vanilla and continue beating for a minute or two. (Actually, it takes a little over seven minutes, but that's okay). You can use light corn syrup instead of cream of tartar if you wish, one tablespoon should be enough, and you can adjust the amount of vanilla to your taste.
This is an icing you want to make and use the day you plan to serve the cake as it will start to decompose and sink into the cake if it stays in place too long. You should also frost your baked goods shortly after you finish icing, as it will settle and become difficult to spread quickly enough.
With its meringue or marshmallow-like texture, Seven Minute Frosting is a product that can be spread but not machine-rubbed. It gives a sweet and moist taste to all the cakes it fills, and it's a product that every baker should try at least once (but we can promise you that it's good enough that you won't stop at that first try).
INGREDIENTS
1 1/2 cups of sugar
1/3 cup cold water
2 large egg whites
1/2 teaspoon of cream of tartar
Pinch of salt
1 teaspoon vanilla extract
PREPARATION
In a medium glass bowl, combine sugar, water, egg whites, cream of tartar and salt.
Put a saucepan of water on the heat to simmer. Meanwhile, beat the egg mixture with an electric mixer on low heat for 30 seconds. Place the bowl on the simmering water pan, forming a double double water bath and continue beating at high power for 7 minutes, until the mixture is firm and shiny.
Remove from the heat, add the vanilla and beat 1 to 2 minutes more.
Use immediately, the glaze will set quickly.