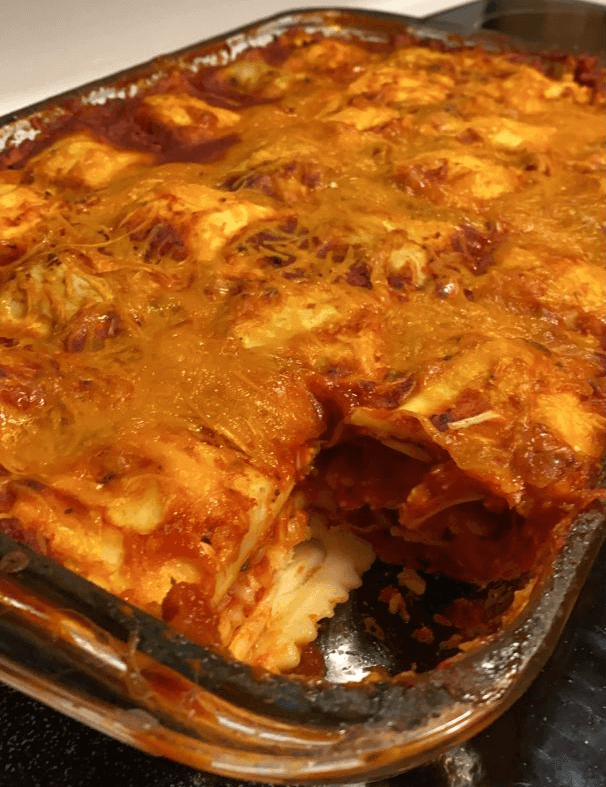 This easy lasagna consists of layers of frozen cheese ravioli that replace traditional lasagna. You'll love cooking these sticky cheese ravioli!
Keep your lasagna recipe easy with frozen cheese ravioli!
I know they don't make boil noodles and are really super simple to make lasagna, but it seems like half the time my grocery store is sold with boil noodles. I hate having to deal with hot, sticky, soft, boiling lasagna. Haha!
This recipe eliminates the need to choose between boiled or unboiled noodles and replaces lasagna with frozen cheese ravioli.
INGREDIENTS
1 pound of ground beef
1 small onion, diced
24 ounces of marinara
3 cloves of garlic, chopped
2 cups of ricotta cheese
1 large egg
¼ cup of parmesan cheese
¼ cup chopped parsley
1 teaspoon garlic powder
½ teaspoon onion powder
25 ounces of frozen cheese ravioli
2 cups shredded mozzarella cheese
chopped parsley for garnish
INSTRUCTIONS
Preheat the oven to 350 degrees. Spray a 13×9 baking dish with non-stick spray.
Heat a large frying pan over medium heat and add the ground beef and onion. Brown the beef, crumbling it as it cooks. Drain fat from pan.
Add the marinara sauce and garlic and simmer for 5 minutes over low heat, stirring often.
While the sauce is simmering, mix the ricotta, egg, parmesan, parsley, garlic powder and onion powder in a small bowl.
Pour one third of the meat mixture into the prepared baking dish and spread it on the bottom of the oven.
Cover with a single layer of ravioli, ½ with the ricotta mixture, and one third of the sauce. Repeat the layers, finishing with the marinara sauce.
Sprinkle the top with the grated mozzarella. Cover tightly with aluminium foil and bake in the oven for 40 minutes. Remove the lid and bake for another 10 minutes.
Remove from the oven and sprinkle with chopped parsley.
Allow to set for 10 minutes before cutting and serving.