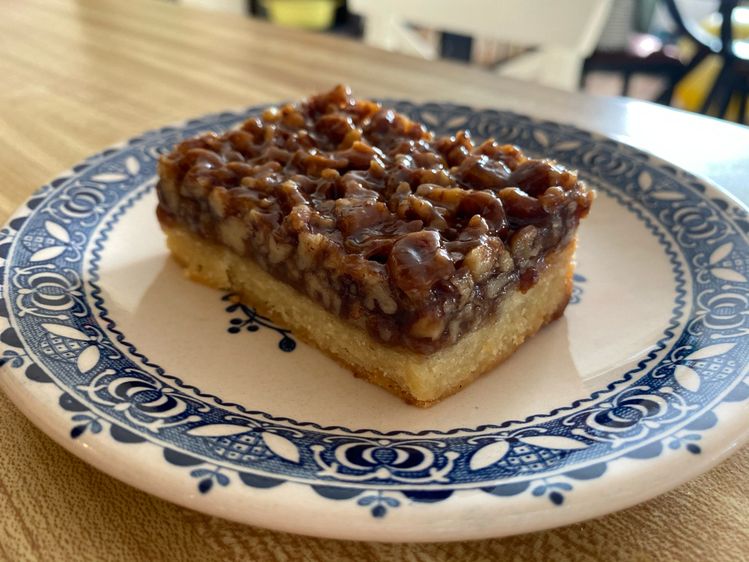 Let me share my thoughts on this really great pecanpie bars. First, you have to have the right size jelly roll pan! I used a 12X18 inch dark metal pan.
This was great. I did not have a jelly roll pan, so I changed the serving from 36 to 24 (all measurements changed nicely except the 4 eggs which equaled to 2 and 3/4. I just used 3 eggs.)
First I opted not to use a jelly roll pan as so many said it made a mess. I used a 9 x 13 pan used a lot of cooking spray and did a fast crust by using 1 1/2 roll up dairy case pie crusts.
This has to be the best recipe out there! My office insists that I make them. The new Reynold's Wrap Easy Release Foil works well to help get them out of the pan when the carmel sticks to the edge of your pan.
These turned out so good. I toasted my pecans for a few minutes before adding them and I didn't bother chopping them. Also I lined my pan with foil and then greased the foil and had no trouble removing them from the pan
These were really fantastic! I made a few changes – I substituted bwon sugar fro teh white sugar in the crust and used unsalted butter instead of margarine.
Ingredients :
3 cups all-purpose flour
½ cup white sugar
½ teaspoon salt
1 cup margarine
4 large eggs eggs
1 ½ cups light corn syrup
1 ½ cups white sugar
3 tablespoons margarine, melted
1 ½ teaspoons vanilla extract
2 ½ cups chopped pecans
Directions :
Step 1: Preheat oven to 350 degrees F (175 degrees C). Lightly grease a 10×15 inch jellyroll pan.
Step 2: In a large bowl, stir together the flour, 1/2 cup sugar, and salt. Cut in 1 cup of margarine until mixture resembles coarse crumbs. Sprinkle the mixture evenly over the prepared pan, and press in firmly.
Step 3: Bake for 20 minutes in the preheated oven.
Step 4: While the crust is baking, prepare the filling. In a large bowl mix together the eggs, corn syrup, 1 1/2 cups sugar, 3 tablespoons margarine, and vanilla until smooth. Stir in the chopped pecans. Spread the filling evenly over the crust as soon as it comes out of the oven.
Step 5: Bake for 25 minutes in the preheated oven, or until set. Allow to cool completely on a wire rack before slicing into bars.