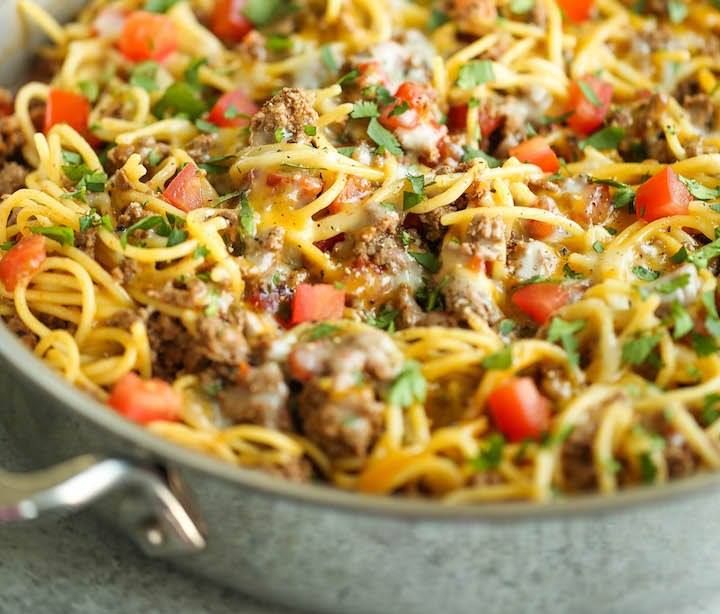 This is a recipe that I came up with on the spur of the moment. My family, especially my 2 year old, loved it! Very kid-friendly. Garnish with a dollop of sour cream and shredded lettuce, if desired.
This is even better than you could ever think it is! I love the creamy cheesy layer between the pasta and the taco meat mixture. The corn and crunchy chips on the top add great texture.
i made this "as is" for my family tonight it was so great we all loved it will make it a regular! Thanks
The whole family loved it! Next time I plan on adding chilies to spice it up.
The creamy layer made this dish for my family. 4 happy kids and 1 happy hubby! Will make again when I have extra taco meat.
Ingredients :
for 4 servings
1 tablespoon olive oil
1 lb ground beef
½ cup yellow onion, diced
4 ½ tablespoons taco seasoning, or 1 package
1 tablespoon tomato paste
10 oz tomato, diced, 1 can
8 oz spaghetti
3 cups water
½ cup cheddar cheese, shredded
½ cup mozzarella cheese, shredded
1 roma tomato, diced
2 tablespoons fresh cilantro, chopped
Preparation :
Heat olive oil in a large stockpot over medium-high heat. Add ground beef, yellow onions, and taco seasoning. Cook until beef has browned, about 3-5 minutes, making sure to crumble the beef as it cooks.
Stir in tomato paste and diced tomatoes, then stir.
Add spaghetti and water. Bring to a boil; cover, reduce heat, and simmer until pasta is cooked through, about 15 minutes.
Remove from heat and top with cheddar cheese, mozzarella cheese, Roma tomato, and cilantro. Mix until cheese is melted.
Serve immediately. Garnish with additional tomato and cilantro, if desired.
Enjoy!