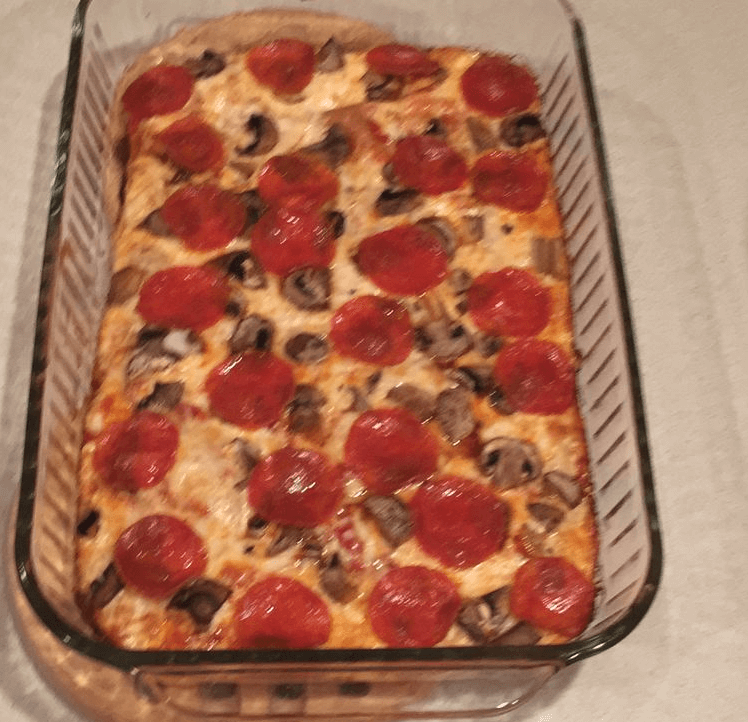 When trying to eat "healthy", (which I say is impossible in summer!), it is difficult to find different recipes. Derek found this pizza recipe that he asked one of his colleagues for and it's called "No Dough Pizza".
Really, no dough? It can't taste good. I love pizza. The fat, the stuffed crust, the toppings galore, the all-you-can-eat cheese are all on my list. I was very interested to see what it would taste like and how it would look without dough. So we bought the ingredients and made them. I was surprised at how easy, cheap and quick this recipe is. I thought it would take some time to make a kind of crust to assemble the pizza. Luckily, it was made in no time and baked in the oven. We decided to play it safe and use pepperoni for the topping, with extra cheese!
At first it was fragile, so we baked it longer in the oven and made sure to give it enough time to cool. This helped us a lot because the pizza hardened and wasn't as thin. The taste was surprisingly very good. It wasn't dry at all and the cream cheese made it taste great. I was pleased with the way it went. It satisfies the craving for pizza and it's so much healthier than ordering!
It's a great gluten free, low carb, diabetic pizza recipe…it's worth a try!
Gluten free, low in carbohydrates, suitable for diabetics !!!!!!
For those who absolutely want pizza but not all carbohydrates !!!!!!!
Ingredients
Crust
1 package of whole cream cheese, room temperature
2 eggs
1/4 teaspoon ground black pepper
1 teaspoon garlic powder
1/4 cup grated Parmesan cheese
Topping
1/2 cup pizza sauce
1 1/2 cups grated mozzarella cheese
garnishings – pepperoni, ham, sausage, mushrooms, peppers
Garlic powder
Directions
Preheat the oven to 350.
Lightly coat a 9×13 baking dish with cooking spray. Using a hand mixer, mix the cream cheese, eggs, pepper, garlic powder and Parmesan cheese until smooth. Spread in baking dish. Bake for 12-15 minutes until golden brown. Leave the crust to cool for 10 minutes.
Spread the pizza sauce over the crust. Top with cheese and toppings. Sprinkle pizza with garlic powder. Bake for 8-10 minutes, until cheese is melted.