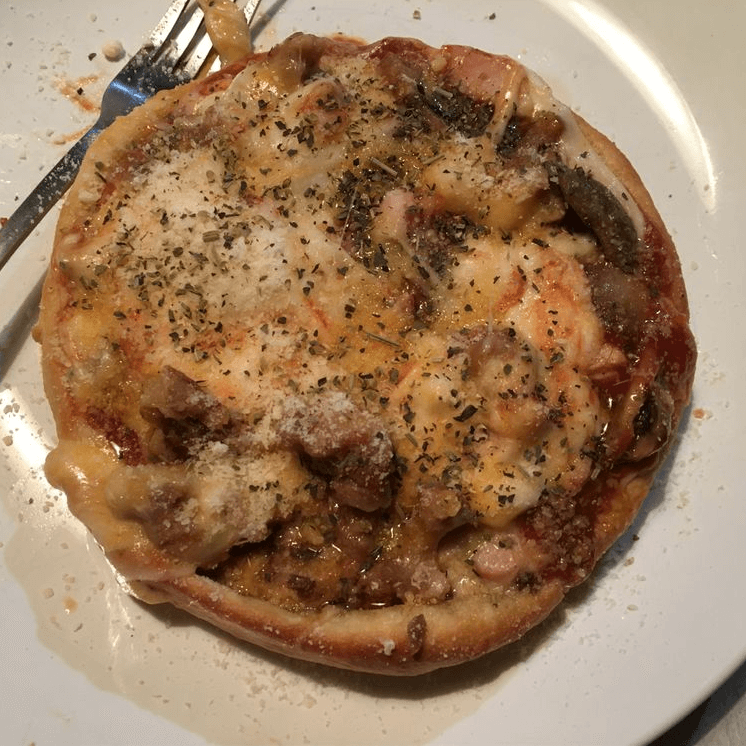 We love pizza in our house – it's one of the foods that all three kids will actually eat and enjoy, and it's easy (which means a lot on a weeknight, amIright?)
Sometimes, though, it's nice to have an alternative to an old standby, so we like to make what we call mini pizza pot pies as a fun twist on our typical fave.
I've shared this recipe several years ago, but thought it deserved to be resurfaced for Mini Chef Monday because it's a perfect mini-sized meal for your mini chef to eat and to help make with you!
We made these when we had friends over for dinner one night – they have two kids, too, so it was the perfect dinner choice. My friend Kristi used two sizes of plastic cups to cut out rounds of pizza dough – a larger round went into the bottom of the muffin tin, and we used the smaller one to top it off. This is a great and easy way for you to let your kids help prep – you can cut the dough without any sharp knives needed!
Ingredients:
1 tablespoon olive oil
1 pound Italian sausage
1/2 medium yellow onion, diced
1 medium green bell pepper, diced
1 cup sliced button mushrooms
Salt and pepper
1 cup pizza sauce or marinara
1/2 cup sliced black olives
3 cups grated mozzarella cheese, divided
1 unbaked roll-out pie crust, store-bought or homemade
12 slices pepperoni
Instructions:
Preheat the oven to 425 degrees.
In a large sauté pan over medium heat, add olive oil. Add Italian sausage and cook for 5 to 6 minutes, breaking apart with a spoon to crumble.
Add the diced onion, green bell pepper and mushroom slices. Cook until softened, about 8 to 10 minutes, and season with salt and pepper. Add pizza sauce, black olives and 2 cups cheese, and stir for about 1 minute or until cheese is melted.
Spoon filling into 4 (10-ounce) ramekins.
Cut the pie crust into 4 circles slightly wider than the rim of the ramekins. Place the crust over the filled ramekins and seal to the edge with a fork. Cut an X in the center of each crust and place ramekins on a baking sheet. Bake in the oven for 20 minutes or until pie crust is golden.
Remove the pot pies from the oven and sprinkle each equally with the remaining mozzarella and 3 slices of pepperoni. Return to the oven and cook for an additional 10 minutes or until cheese melts and begins to brown lightly at the edges.
Let cool for 5 minutes before serving.