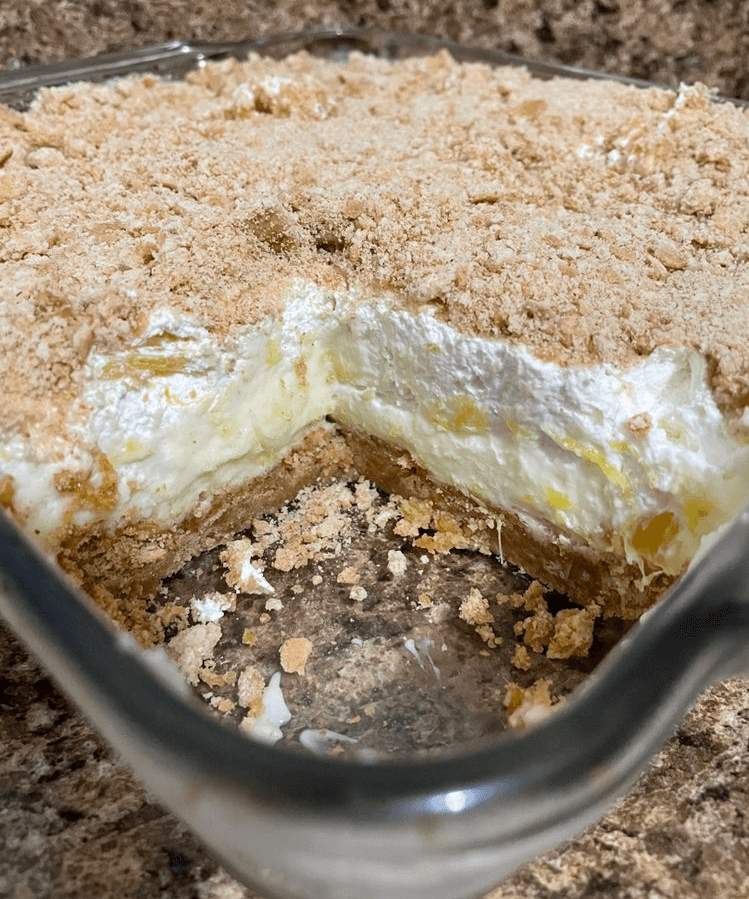 PINEAPPLE CREAM DESSERT: PERFECT FOR SUMMER
Pineapple just seems to scream summer! OK I know it's available year round, but it's tropical origins put it squarely in the summer category–at least for me.
Another reason this is a perfect dessert for summer is that it's totally no bake!
IF YOU LOVE CHEESECAKE…
Then you'll love this dessert!
The filling is a creamy pineapple-flavored cheesecake and it's mounded on top of a buttery graham cracker crust. It's just totally yummy.
Keep in mind that the cheesecake layer may also be used as a sweet dip. Of course it goes well with graham crackers, but it's also nice with vanilla or chocolate wafers.
Ingredients
FILLING
8 oz softened cream cheese
8 oz tub whipped topping
14-16 oz large can crushed pineapple, drained
3/4 cup confectioner's sugar
1/2 cup pineapple chunks
1/2 cup shredded coconut for topping.
CRUST
1 1/2 cups graham cracker crumbs
1/3 cup sugar
1/2 cup butter melted
Instructions
For crust: Mix the graham cracker crumbs and sugar. Add the melted butter and stir to combine well. Press into a 8 x 8- or 9 x 9-inch pan.
Filling: In a large bowl, beat the softened cream cheese and confectioner's sugar until very smooth.
Beat in the tub of whipped topping. Then fold in the drained pineapple.
Spread filling on top of crust. Top with pineapple chunks and sprinkle with coconut.
Chill very well—at least 4 hours, preferably overnight