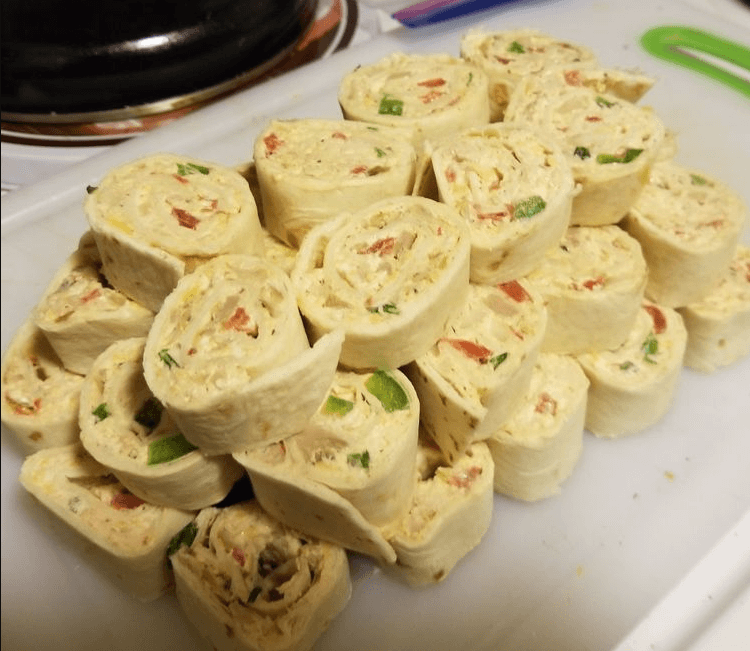 This is a great appetizer to bring to a party because the hostess doesn't have to worry about cooking or heating it. In addition, they taste great.
-Leanne,
I did this for a ladies tea last Tuesday and I slipped a small jar of chopped chilies to get some red. (Drain them well) Otherwise, the recipe stayed the same. The green jalapeños gave the peppers a good taste. They looked quite festive and everyone must have liked them – I didn't have any leftovers.
-I've made them for a cpl on different occasions over the past few years and they are always a hit! I'm thinking of making them for Christmas Day with the family, I want to make a mix of red and green but I can't find the pickled red peppers 🙁 Any suggestions for finding stores on the West Coast?
-I made these for the "Gourmet Day" of my work, my friend. And using your idea, I just added different ingredients, but the result was incredible! My colleagues finished them before I could get out the tongues, and I can say that the compliments I received were surreal! Thank you very much for the recipe and the inspiration my dear friend ! ♥
-They're in my fridge, waiting for the soccer game to see the Seattle Seahawks take the San Francisco 49ers to school!
Cooking Time: 2 hours Preparation Time: 15 minutes Serves: 48 Rolls
Ingredients
8 oz cream cheese, softened
1 tsp cheddar cheese, grated
1/2 c ripe olives, chopped
2 tablespoons fresh cilantro, chopped
2 tablespoons green onion, chopped
1/2 teaspoon garlic powder
4 10″ flour tortillas
Red Jalapenos, pickled
Itinerary
1. In a medium bowl, mix the first 6 ingredients. Mix well.
2. Spread about 1/2 cup of mixture on each tortilla. In the center, place a row of jalapeno halves lengthwise on the tortilla.
3. Roll the jelly up like a roll and wrap in plastic wrap. Refrigerate for at least 2 hours. Unwrap and cut each tortilla into 12 slices.
4. Garnish slices with a guacamole star if desired. (If you can't find red jalapenos, green is fine. Red just looks prettier).
Last step: Don't forget to share!