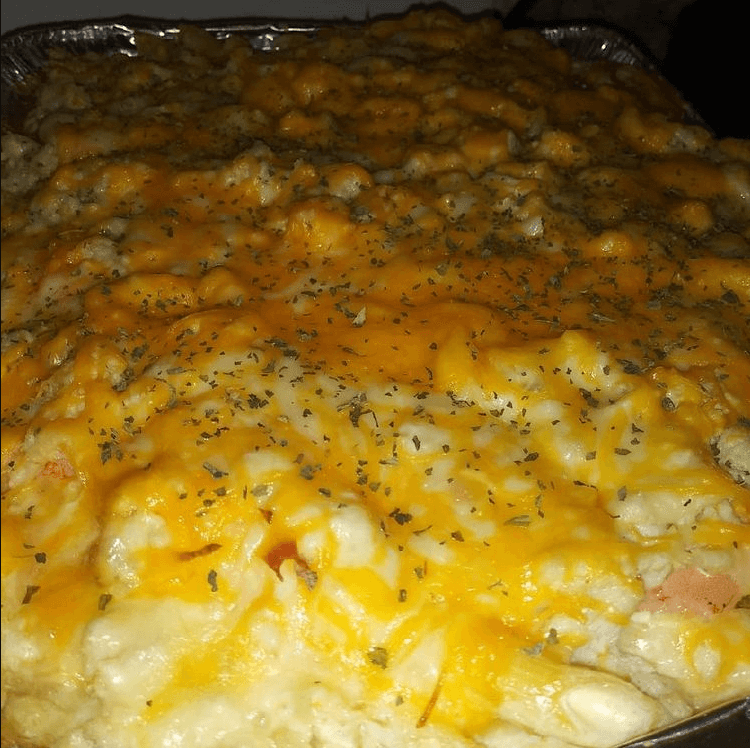 This is a creamy, rich and decadent recipe for an "exaggerated" addition to any meal. After years of preparing macaroni and cheese, this version with shrimp and lobster is a treat worth preparing for your loved ones. It is a recipe adapted from strong Southern women (Patti LaBelle, Mama Jean, and my son Ashley's girlfriend)… all wonderful cooks! I make it a day ahead of time.
Ingredients
One pound penne pasta or large elbow pasta
3 cups of whole milk
2 cups half and half
1 tablespoon of butter
2 tablespoons of extra virgin olive oil
¼ Onion cut, diced
1 tablespoon fresh thyme, chopped
1 to 2 cloves of fresh garlic, finely chopped
3 level tablespoons of all-purpose flour
To taste the kosher salt
To taste the black pepper
To taste or 1 to 2 tablespoons of Grand Diamond all-purpose condiment
To taste or 2 to 3 teaspoons of hot sauce or Tabasco
1 to 2 teaspoons of boiled liquid crab, (optional) (be careful, it can be spicy but it adds a nice seafood flavor)
3 cups (about 12 ounces) Gouda or Monterey Jack cheese, grated
3 cups (about 8 ounces) Muenster or mild Cheddar, grated
1 cup (just under 4 ounces) grated Gruyère cheese
1 pound of raw, deveined, tailless shrimp, size 14-16 or 31-40
½ to ¾ Book of lobster, raw or pre-cooked, cut into pieces (3 to 4 small lobster tails are enough)
½ to ¾ The crab in pieces, your choice
Non-stick cooking spray, optional
Directions
Prepare, chop and dice all ingredients first.
Grate all the cheeses and mix them in a large bowl.
Season the shrimp and lobster. Set aside.
Preheat the oven to 350 degrees
In a large pot, bring 3 liters of water to a boil over high heat.
Season the boiling water with 3 tablespoons of salt. Cook until the water is al dente, 2 minutes less than the cooking time suggested on the package.
Once cooked, drain the pasta, do not rinse it and mix it with 1 or 2 tablespoons of olive oil or vegetable oil to prevent it from sticking together while the sauce is cooking.
Preheat the milk and the half and half mixture in the microwave for about 3 to 4 minutes.
Then, in a large frying pan, melt the butter and olive oil together over medium-high heat.
Add the onions and sauté for 3-4 minutes or until tender.
Add flour and cook and stir for about 2 minutes. (This is a roux, don't brown it.) Add the chopped garlic and thyme and cook for another minute.
Then, while whisking vigorously, add all the milk mixture to the roux.
Whisk until the sauce is smooth and free of lumps. Once it is smooth, lower the heat to medium.
Add salt, pepper, Grand Diamond All Purpose Seasoning, hot sauce and, if desired, liquid crab and boil to taste.
Simmer for 5 to 8 minutes or until sauce has thickened. Whisk occasionally to prevent it from sticking.
Then add 3 cups of grated cheese to the sauce (reserve 4 cups for layering), turn off the heat and stir until the cheese melts and the sauce is combined.
Stir in the drained pasta.
In a lightly sprayed 9×13 baking dish, pour half of the macaroni and cheese.
Then place the first layer of seafood, using half of each.
Sprinkle 2 cups of the reserved cheeses.
Add the next layer of macaroni and cheese, repeat with the seafood and cover with the last 2 cups of cheese.
Bake covered with aluminum foil at 350 degrees for 30 minutes.
Remove cover and continue baking for an additional 10 minutes or until cheese is completely melted and seafood is fully cooked.
Serve hot.
Note :
Store-bought, steamed/cooked lobster, accompanied by your choice of crabmeat pieces, is perfect for this recipe.
This dish can be prepared and assembled one day in advance, covered, refrigerated and baked the next day. When reheating leftovers, be sure to cover them.