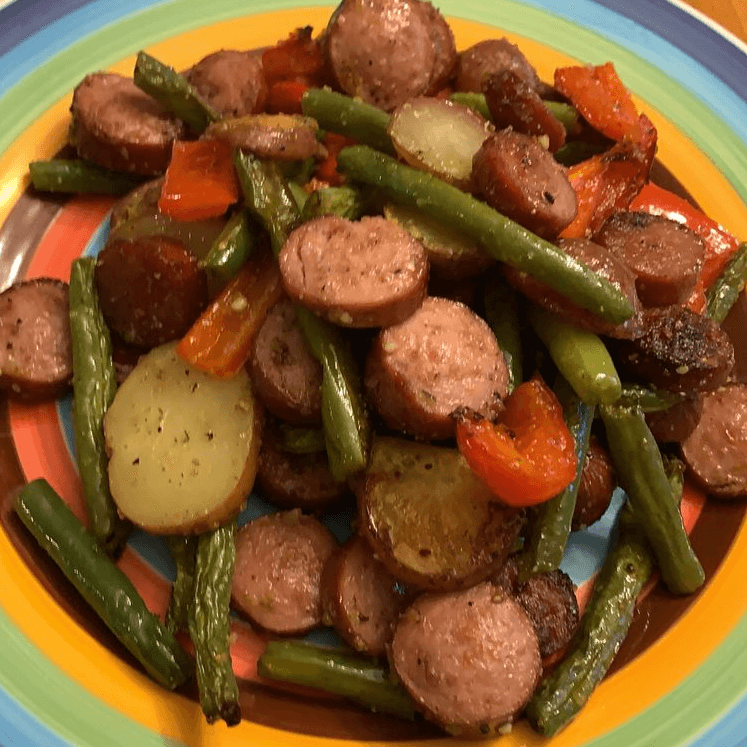 We know how easy it is to take out on a busy weekday evening, but with the right ingredients in the fridge, we can put a meal on the table for much less than it would cost us to buy something for everyone at a fast food restaurant. The key to achieving this, and in a short period of time, is to prepare the ingredients so that they cook quickly, so that the meal is out of the oven and on the table in 30 minutes. One of our favorite ways to do this is to cook on a baking sheet; simply throw all the ingredients on a baking sheet and put them in the oven. The dinner comes out perfectly cooked, with only one dish used to prepare the entire meal.
That's why we love this kielbasa and vegetable oven; it has good protein and good vegetables, all cut to the same size for quick and even cooking. The seasonings are also very easy to make; just add olive oil, salt and pepper, but other herbs and spices also add a little extra flavor. We like to use potatoes, and sometimes we add carrots, asparagus, Brussels sprouts, and even parsnips or sweet potatoes. We take a packet of our favorite kielbasa and dice it up; we mix it all together and throw it (gently) on a baking sheet. The oven does the rest of the work, and we have a few minutes to help with homework, folding laundry or answering a few more emails before settling down for a meal.
Preparing dinner at the end of a long day is the last thing we want to worry about. That's when a meal like this comes in handy, especially if you give yourself a super important shortcut… you take a few minutes after coming home from weekend shopping to prepare a small meal. The ingredients for this meal are easily cut up and stored in an airtight container or resealable plastic bags. Just preheat the oven and throw everything on a baking sheet… bada-bing-bada-boom, dinner is on the table and we give ourselves a little pat on the back. It's a homemade "fast food" that makes us feel good!
Sausage Potato Garlic Pan
40 minutes to prepare services 4
INGREDIENTS
1 pound miniature red potatoes, cut in half or quartered
2 cups of baby carrots
Asparagus, 1 bunch
1/2 large yellow onion, thinly sliced
1 package (13 ounces) pork kielbasa, cut into rounds
1 tablespoon chopped garlic
1/4 cup separate olive oil (2 tablespoons; 1 tablespoon)
1 teaspoon of dried basil
1 teaspoon dried thyme
1 teaspoon dried oregano
1 teaspoon paprika
1/2 teaspoon onion powder
Salt and crushed pepper
PREPARATION
Preheat oven to 400°F. Line a baking sheet with aluminum foil or a silicone baking sheet.
In a small bowl, mix basil, thyme, oregano, paprika, onion powder, salt and pepper. Set aside.
Place the potatoes and carrots on the baking sheet and drizzle with 2 tablespoons of olive oil. Sprinkle half of the dried herbs on top and stir until well coated. Bake in the oven for 20 minutes.
Remove the potatoes and carrots from the oven and slide them to one side of the baking sheet. Add the asparagus, onion and kielbasa slices to the baking sheet.
Drizzle with a tablespoon of olive oil, remaining dried herbs and garlic and toss to coat. Spread evenly on the baking sheet.
Return the baking sheet to the oven for an additional 10-15 minutes, or until the vegetables are softened and grilled.
Serve hot, directly on the baking sheet.