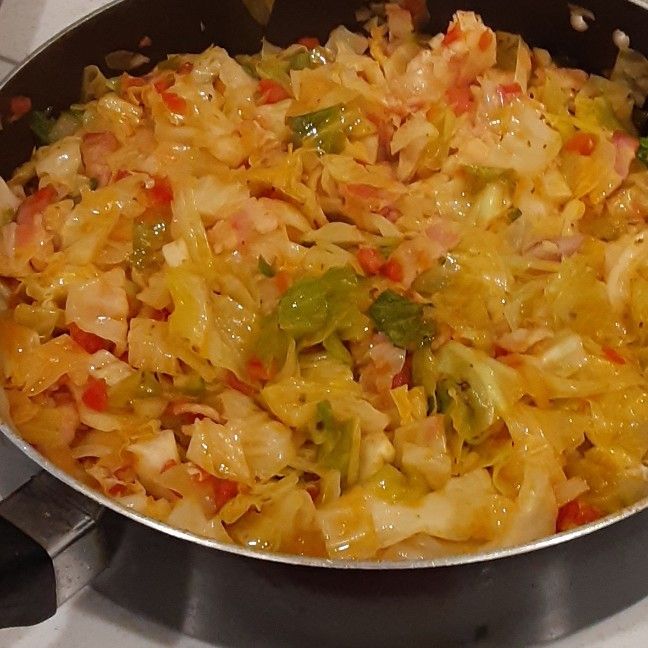 This is a family favorite that is put into every cookbook for my kids when they move out and get married. It is a beautiful dish with many colors and full of flavor. Warning, it is addictive.
Excellent recipe! My change…Olive oil and real bacon bits instead of cooking the bacon and using the drippings.
I thought I would want more bacon, but I stuck to the recipe and it was perfect. I wouldn't change a thing. Thanks for the recipe.
This was good. I did drain a little of the bacon grease prior to adding the cabbage it just looked like too much grease for me. As far as the salt goes I only added about 1/2tsp. at first (I was only using 1/2 a fairly small cabbage.
This was excellent. I did use less salt than specified but this recipe is definitely one I'll make again and again.
Ingredients :
1 lb bacon ( finely chopped)
1 medium onion (chopped)
2 lbs cabbage (finely diced)
1/4 teaspoon red pepper flakes
2 cloves garlic, minced
1/2 teaspoon black pepper
1 tsp olive oil
1/2 teaspoon salt
Instructions :
Fry bacon with occasional stirring until the fat renders and will take a crispy brown appearance.
Remove the bacon on paper towels to drain and set aside.
Take oil in a pan, heat it now add chopped onion and minced garlic into pan and stir until onion and garlic become translucent.
Now add cabbage and pepper flakes, salt into pan and stir until the cabbage is tender if you prefer it softer put a lid on the frying pan that will give it some steam.
Crumble the fried bacon into the pan and mix well.
You can keep in the fridge for a day or two and can be reheated in a hot frying pan, but its best freshly made.
Nutritional Facts :
193 calories
12.5 g fat
15.5 g carbohydrates
5.4 g protein
19 mg cholesterol
1435 mg sodium