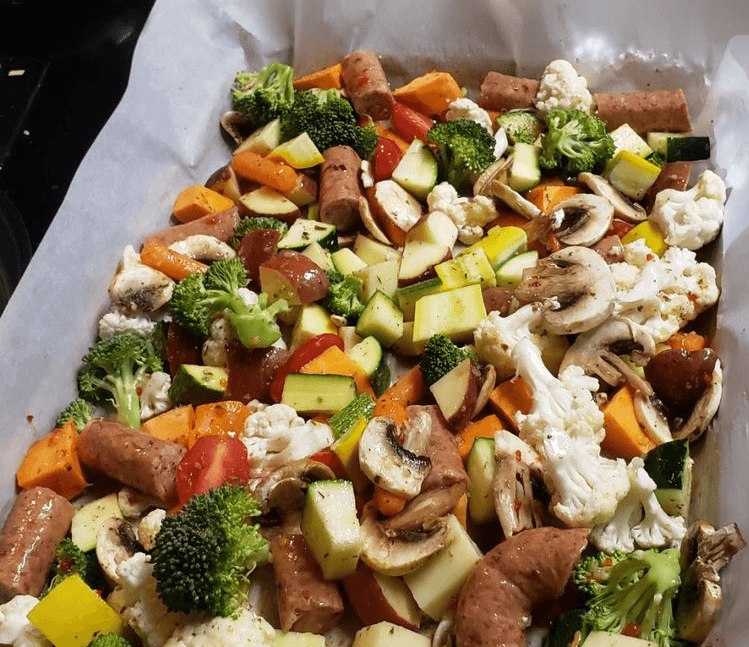 These Easy Oven Roasted Vegetables are perfectly tender and packed with flavor! This healthy method for roasting vegetables can be adapted to fit any veggies you've got on hand!
Wondering what to serve with roasted vegetables? They're amazing with this easy roast chicken recipe, or this stuffed flank steak recipe!
THE BEST OVEN ROASTED VEGETABLES
Deliciously seasoned roasted vegetables made quickly and effortlessly. Oven Roasted Vegetables are a quick and easy 20 minute side-dish that is also healthy, tasty, and great served alongside meat, fish, or rice.
Also, this is a perfect meal-prep dish. I save lots of time by roasting several large sheet pans of veggies on a Sunday night, and then simply reheat them right before lunch or dinner for the rest of the week.
This awesome veggie treat has been my go-to side dish lately because I can't pass up a Farmer's Market if my life depended on it. I see a veggie/fruit/pumpkin Stand, and I STOP! I just hop on out of the car, take everything they've got on display, and continue on my journey.
I live in Indiana, friends. Farmer's Markets last a whole, what, like, 3 months around here?! SO, I just take full advantage. 🌶 🥦 🥕
2 cups broccoli florets
2 cups cauliflower florets
2 cups sliced baby portobello mushrooms
1 cup thin baby carrots
1 red bell pepper, chopped
1 small yellow onion, cut into 6 wedges
2 tablespoons olive oil
salt and fresh ground pepper, to taste
1-1/2 teaspoons Italian Seasoning
1/2 teaspoon garlic powder
grated parmesan cheese, for garnish (optional)
chopped fresh parsley, for garnish (optional)
Preheat oven to 425˚F.
Line a large baking sheet with foil or parchment paper.
Add all the vegetables to the baking sheet.
Add olive oil over the veggies and mix with either a wooden spoon or just use your hands.
Season with salt, pepper, Italian Seasoning, and garlic powder; gently toss until thoroughly combined.
Arrange all the veggies in a single layer.
Bake for 15 to 20 minutes, stirring halfway through cooking. You want to roast the veggies until fork tender and lightly browned.
Remove from oven.
Garnish with parmesan cheese and parsley; serve.