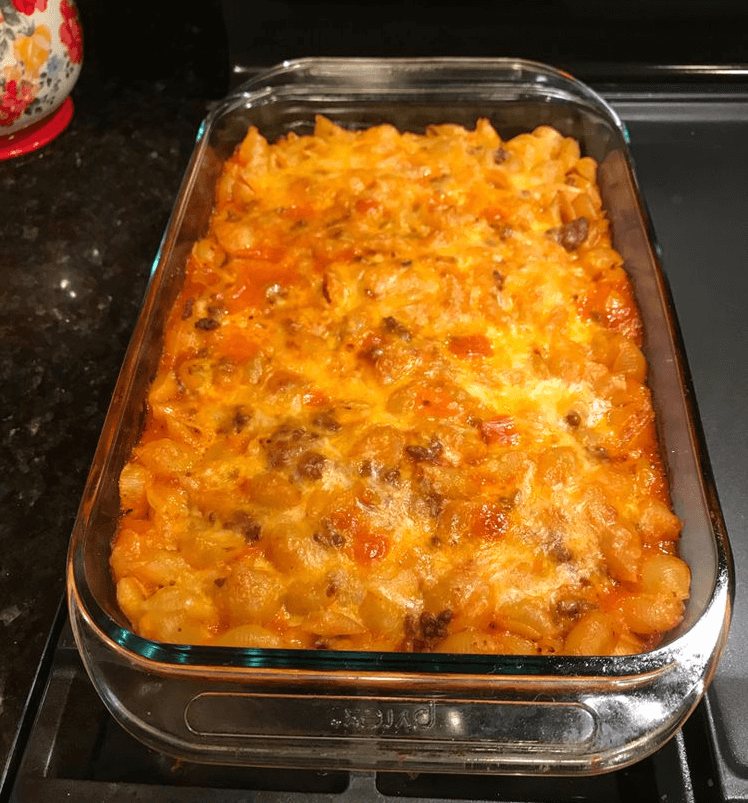 Anyone else trying to feed fussy eaters? Don't you like to spend so much time planning and preparing dinner that everyone complains? Ugh! I have some good news for you. This quick and easy casserole is made with simple and inexpensive ingredients, takes very little time to prepare, is perfect for busy weeknights and is a family favourite!
It's made with only ground beef, pasta shells, tomato soup, cheese and seasoning to taste. It doesn't seem like much, but when it all comes together, it's like eating a cheeseburger in a frying pan. It's a very comforting meal, especially during the winter months.
It's so good and delicious! I like to serve it with salad or broccoli (whatever I have on hand) so I can consider it a slightly healthier meal.
Looking for quick and easy recipes for family dinner? This simple casserole dish is perfect for busy weeknights, fussy eaters and hungry husbands! It's not only delicious, it's also economical, easy to prepare and a family favourite. It is made with only ground beef, pasta shells, tomato soup, cheese and seasoning to taste. It is delicious!
Servings: 8
Ingredients
1 can of medium pasta
1 pound of ground beef
2 cans of tomato soup
2 cups grated cheddar cheese
1 cup shredded mozzarella cheese
1/2 cup of water
Garlic, salt and pepper to taste
Instructions
Cook and drain the pasta according to the instructions on the package.
Meanwhile, preheat your oven to 375 degrees and grease a 9×13 baking dish.
In a large frying pan, brown and chop the ground beef with garlic powder, salt and pepper (or any other seasoning of your choice).
Add the cooked pasta, tomato soup, half a cup of water and HALF of the cheese to the pan with the browned beef; stir and cook for 2 to 3 minutes over medium heat.
Pour the mixture into your greased pan and cover with the remaining cheese.
Cover with aluminum foil and cook for 20 minutes. Uncover and continue cooking for an additional 10 minutes (I also like to turn the grill on for the last 2-3 minutes to brown the cheese).
Serve immediately and store leftovers in the refrigerator for up to 3 days.