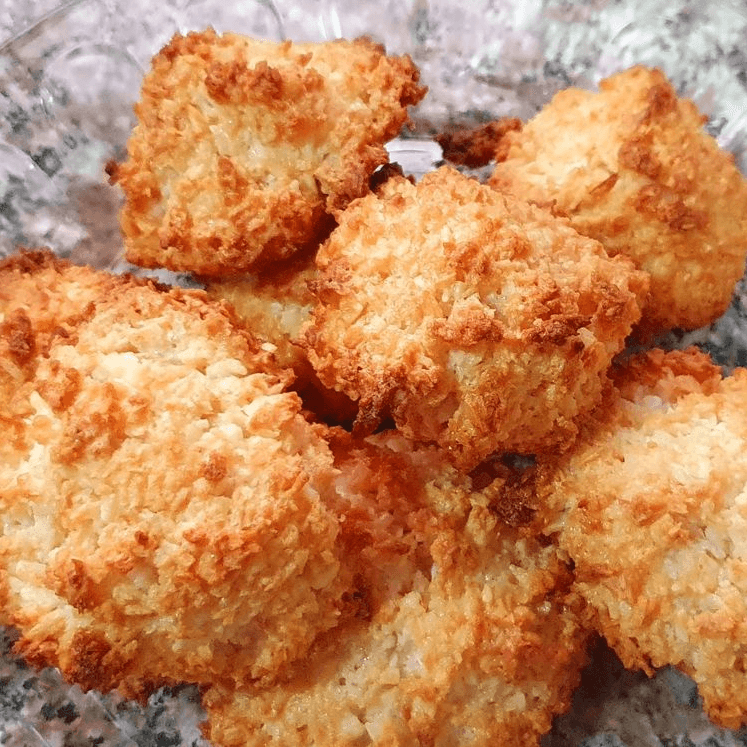 A simple recipe for easy-to-make coconut macaroons made from sweetened condensed milk and finely grated coconut. The perfect gluten-free cookie for entertainment!
So here's the story of coconut macaroons: They can be very good or very bad. Which begs the question: "What makes a good macaroon?" We will cover this topic and many others, but alas, I won't leave you in suspense any longer. The macaroons you'll find here? No worries. They're the best.
Actually, I'm not even a coconut lover, but these cookies are nothing but an addiction. The last time I served them, each guest went back a few seconds. All of them. And, who could blame them? They're perfectly moist, full of flavor, dipped in chocolate and perfectly legitimate.
The first two macaroon recipes I tested left something to be desired. They consisted mainly of grated coconut, sweetened condensed milk and whipped egg whites. And while I realize that short and simple recipes can save time, I must say that we can add a lot more flavor to a macaroon with little effort and a few extra ingredients.
Before we get into the question of how to make them better, let's see what it's all about first.
Of course: Dessert
Kitchen: American
Servings: 15
Author: Kelly Anthony
Ingredients
3 large eggs, separated
1 can of sweetened condensed milk (14 ounces)
1 teaspoon of pure vanilla extract
1 teaspoon of fine sea salt
1 package (12 ounces) of Bob's Red Mill unsweetened coconut macaroons
1 package (10 ounces) of Ghirardelli's Dark Melting Wafers
Instructions
Preheat the oven to 325° and prepare a baking tray lined with a silicone mat or parchment paper.
Add the egg whites to the bowl of a stand mixer fitted with a whisk. If you don't have a stand mixer, use a medium bowl and a hand mixer or balloon whisk.
Beat the eggs at high speed until they reach stiff peaks. Set them aside until they are ready to use.
Add the egg yolks to a large bowl, then add the sweetened condensed milk, vanilla extract and salt. Beat with a whisk to blend. Stir in the coconut.
Add the egg whites, one spoon at a time, blending them gently into the coconut mixture after each addition. Once all the egg whites have been incorporated into the coconut mixture, place tablespoons of dough on the baking sheet, spacing each dough about 1″.
Bake the cookies for 24-26 minutes, or until golden brown. Remove them from the oven and let them cool completely.
Prepare a work surface lined with wax paper. Melt the chocolates following the instructions on the package. Dip the bottom of each cookie in the melted chocolate and allow the excess to drain off. Transfer to waxed paper and allow chocolate to set completely, about 30-45 minutes at room temperature. Serve and enjoy.
Recipe Notes
If you soak the macaroons in chocolate, add another 30 to 45 minutes to give them time to set and harden.
Makes about 30-32 coconut macaroons.