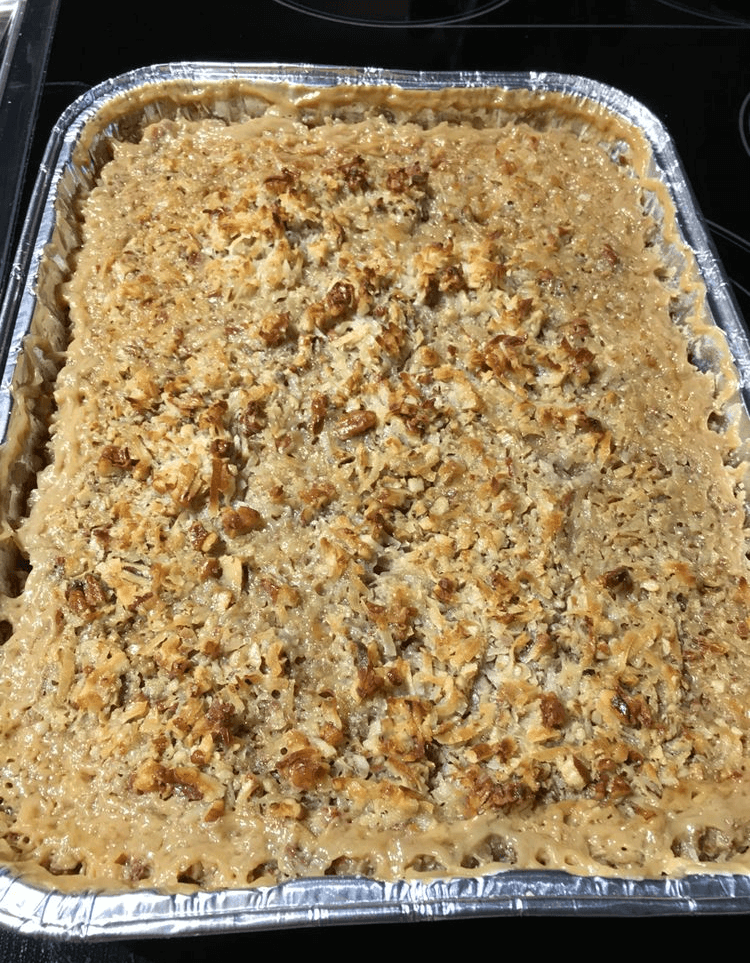 This recipe is quick and easy, and can be made with ingredients at hand. Serve it to those guests who strike unexpectedly.
This cake is fabulous! I made it as directed including the butter glaze another reviewer mentioned (with the exception of the coconut as I didn't have any on hand).
My daughters made this for my birthday…and I must say it was one of the BEST cakes (moist!) I have EVER eaten! It is so unusual and soooo gooood! You'll have absolute raves with this one!
This cake is great. I had the recipe and lost it while relocating to another state. There was a butter sauce with coconut that is poured over this cake and it makes it heavenly
Ingredients:
Cake-
2 cups all purpose flour
1 teaspoons baking soda
2 cups granulated sugar
2 large eggs
1 teaspoon vanilla extract
20oz can crushed pineapple
Topping-
1/2 cup salted butter
1/2 teaspoon vanilla extract
2/3 cup evaporated milk
1 cup granulated sugar
1 cup chopped pecans
1 cup sweetened coconut flakes
Instructions
Preheat your oven to 350 degrees and grease a 9×13″ baking pan with butter
In a large mixing bowl, mix together your flour, sugar, baking soda, eggs, vanilla, and crushed pineapple
Pour into your baking pan and bake for 40-45 minutes or until golden brown
Poke several holes in the cake with the handle of a wooden spoon
In a medium sized sauce pan, heat your butter, sugar, evaporated milk, and vanilla until it reaches a boil
Mix in your pecans and coconut and continue cooking for about 5 minutes on medium heat, stirring constantly
Pour your topping evenly over your cake, slice, and enjoy!