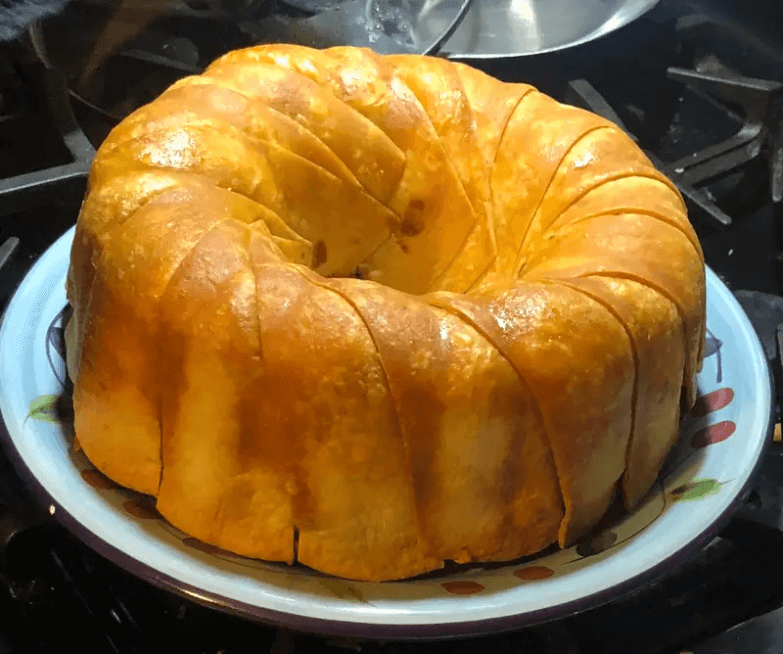 Really simple taco ring using crescent rolls.
We loved this. I like that you can play with the ingredients and make it your own. What a great recipe for those days you want to get dinner done quickly.
Really good and really tasty recipe. Making it for the first time I had trouble with the spacing of the crescent roll pieces but that's more of a personal problem. I definitely suggest a side of salsa for dipping.
Followed the recipe and it turned out perfect. It was fun to make and served it with other appetizers and it was a huge hit.
Ingredients
for 8 servings
1 tablespoon of olive oil
1 large white onion, diced
1 red bell pepper, diced
1 jalapeño, deseeded, diced
1 pound of ground beef (455 g)
1 packet of taco seasoning
1 lime, juice
10 flour tortillas
nonstick cooking oil aerosol spray
1 ½ cups grated cheddar cheese (150 g)
2 cups tortilla chips (200 g), crushed
1 ½ cups grated monterey jack cheese (150 g)
salsa, to serve
Preparation
Preheat the oven at 350˚F (180˚C).
In a large skillet over medium heat, heat the olive oil. Add the onion and cook, stirring occasionally, until it caramelizes, about 10 minutes. Add the red bell pepper and chilli bell pepper. Cook until they soften, about 3 minutes.
Spoon in ground beef, breaking it up with a spoon, and mix with the other ingredients. Add the taco seasoning and lime juice. Mix well, cover and refrigerate until ready to use.
Place the stack of tortillas on a cutting board. Cut off two round sides of the tortillas, leaving a center section 10 cm wide. Cut the center section in half, vertically.
Generously spray a bundle pan with non-stick spray.
Place the central strips of tortillas in the fan-shaped mould. Each tortilla strip should slightly overlap the previous one. Sprinkle half of the cheddar cheese over the tortillas.
Spread half of the ground meat mixture over the cheese.
Place one-third of the round tortillas on top of the fan-shaped ground meat mixture. Sprinkle half of the Monterey Jack cheese over the tortillas. Sprinkle the tortilla chips over the cheese.
Place another third of the round tortillas on the fan-shaped fries. Sprinkle the remaining cheddar cheese over the tortillas. Spread the remaining ground beef mixture over the cheese. Sprinkle the remaining Monterey Jack over the ground meat mixture. Place the remaining tortillas on top of the cheese in a fan shape.
Bake for 45 minutes until tortillas are crispy and golden brown.
Cool for 20 minutes.
Place a plate on top of the bundle pan and turn the ring over.
Slice and serve with salsa.
Enjoy!