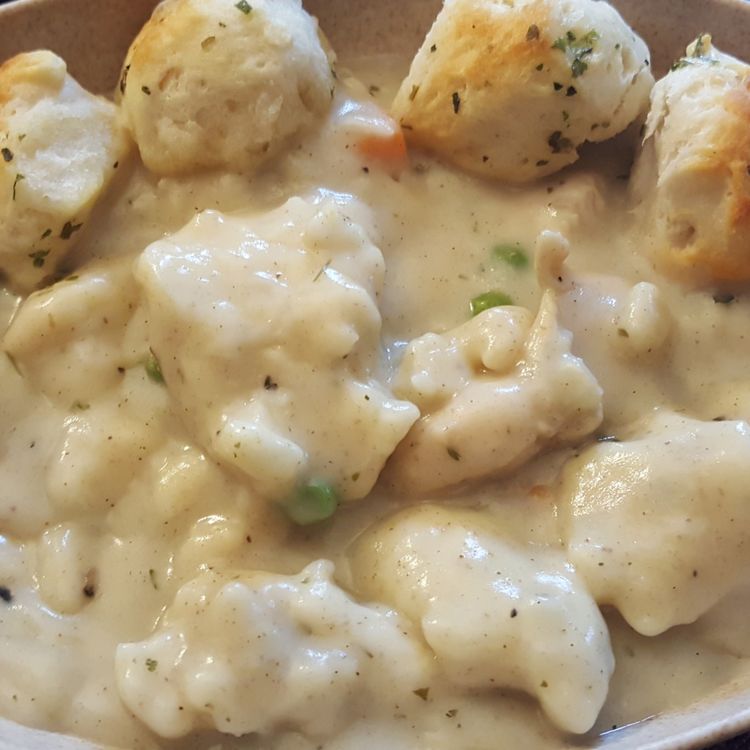 This Crockpot Chicken and Dumplings Recipe is winter comfort food perfection! Super quick and easy to make and SO hearty and cozy! No cream of "x" soup. Uses refrigerated biscuit dough!
'Tis the season for all things cookies and candies.
Amiright?
So far, this season, I've made grandma's best sugar cookies, TWO kinds of fudge (coming soon), chocolate crinkle cookies, cut out sugar cookies, AND easy peanut clusters.
Let's just say the sugar has been flowing freely here at Show Me the Yummy.
Buuuuuut.
We can't just live off sugar. I mean. I wish. But we can't.
Because of that, it's also the season for all the comfy, cozy, and EASY dinners.
Get ready, because this crockpot chicken and dumplings recipe TOTALLY fits the bill.
While Trevor and I may be in living it up in 70º Florida weather right now (we're on a year long road trip around the US & Canada), we're originally from the Midwest where this time of year can be FREEZING cold.
This crockpot chicken and dumplings is the kind of recipe you CRAVE during this time of year.
It's hearty and will definitely warm you from the inside out.
The perfect comfort food.
PLUS, it's super quick and easy to make, so we can get back to all the holiday baking we've got planned.
Ingredients
4 servings
4 boneless skinless chicken breast
1 can chicken broth
2 cans cream of chicken
sliced carrots
sliced celery
1/2 can peas
1/2 onion
crumbled bacon
parsley
garlic powder
salt and pepper
1 can flaky biscuits
Method
Place chicken breasts in bottom of crockpot
Pour chicken broth and both cream of chickens over it
Add in carrots, celery and onion. How much ever you prefer
Add in garlic powder, salt and pepper and parsley flakes over it, how much ever you prefer
Cook on high for 3 hours
Remove chicken and shred. Add the chicken back in with some crumbled bacon and the peas, stir together.
Break up the flaky biscuits, uncooked, and put in the crockpot. I break each roll in about 3 parts and just place them on top.
Remain cooking for another hour or so on high or until done. Enjoy!