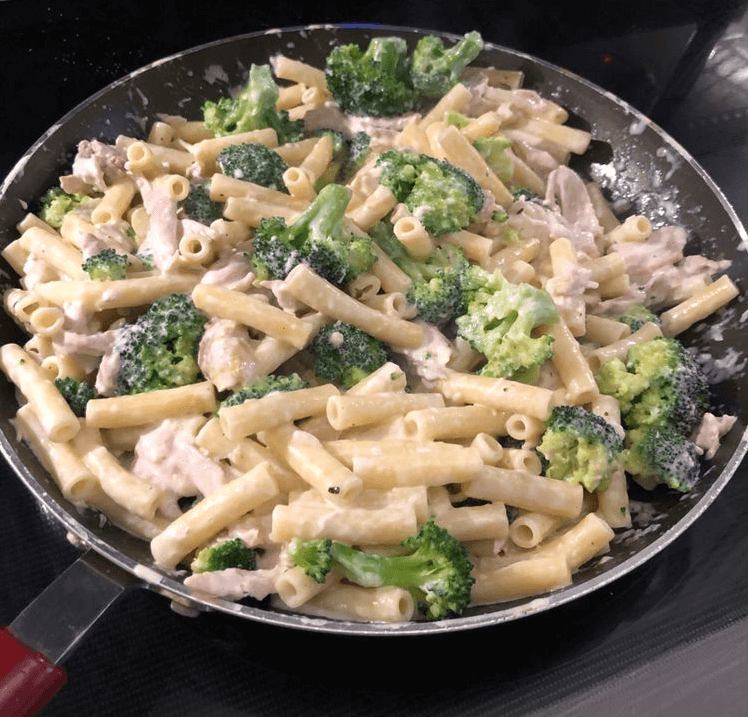 How to make broccoli chicken pasta
The sauce: This sauce is very much based off of my Alfredo sauce recipe. The sauce is made with butter, cream and Parmesan cheese. Can you make this sauce without cream? Absolutely. The end result won't be as silky and luscious but will still be tasty. After melting the butter to the pan, whisk in two teaspoons of flour then pour in the milk. Allow to simmer until the sauce has thickened (approximately 7-10 minutes).
Chicken and broccoli: You can use either boneless chicken breast or thighs for this recipe. I prefer using thighs because they are much juicier and more flavorful. Chop the chicken into bite size pieces then, season with salt and pepper and fry in a hot pan until the chicken starts to turn golden brown all over. Remove from the pan then make the sauce. Slice the broccoli into smaller florets, this will help the cook faster. Add the broccoli and chicken and allow to simmer and cook for 5 minutes or until the broccoli is tender then toss with pasta and serve. (Full recipe and measurements can be found in the recipe card below.)
Prep: 15 mins | Cook: 20 mins | Total: 35 mins | Servings: 12
Creamy, cheesy, and healthy! This is by far the best pasta recipe I have ever tasted! For someone that is health-conscious like me, this is perfect. Feel free to add more ingredients if you prefer. Enjoy!
Ingredients:
1-pound uncooked spaghetti
1-pound broccoli florets
1 tablespoon margarine
1-pound skinless, boneless chicken breast halves – cut into strips
½ cup chopped onions
1 (10.75 ounces) can condense cream of chicken soup
⅔ cup milk
⅔ cup of water
1 (3 ounces) package cream cheese, cubed and softened
¾ cup grated Parmesan cheese
Directions:
Step 1: Place a large pot on the stove and pour salted water.
Step 2: Turn the heat to high and bring the water to a boil.
Step 3: Add the spaghetti and cook for about 4 minutes, then add the sliced broccoli.
Step 4: Cook for another 4 minutes or until the pasta is firm.
Step 5: Drain and rinse the pasta with running water to stop the cooking process.
Step 6: Place a skillet on the stove and turn the heat to medium.
Step 7: Add the margarine and allow it to melt.
Step 8: Add the chicken and onion. Cook for about 5 minutes or until the chicken no longer has juice and the onions are translucent.
Step 9: In a large mixing bowl, add the milk, water, soup, and cream cheese. Whisk until well mixed.
Step 10: Add the mixture into the skillet and allow it to boil.
Step 11: Simmer for another 5 minutes on low heat or until the sauce thickens.
Step 12: Transfer the mixture into a serving bowl.
Step 13: Serve and enjoy!
Nutrition Facts:
Per Serving: 280.3 calories; protein 17.7g 35% DV; carbohydrates 33g 11% DV; fat 8.5g 13% DV; cholesterol 38.4mg 13% DV; sodium 313.5mg 13% DV.