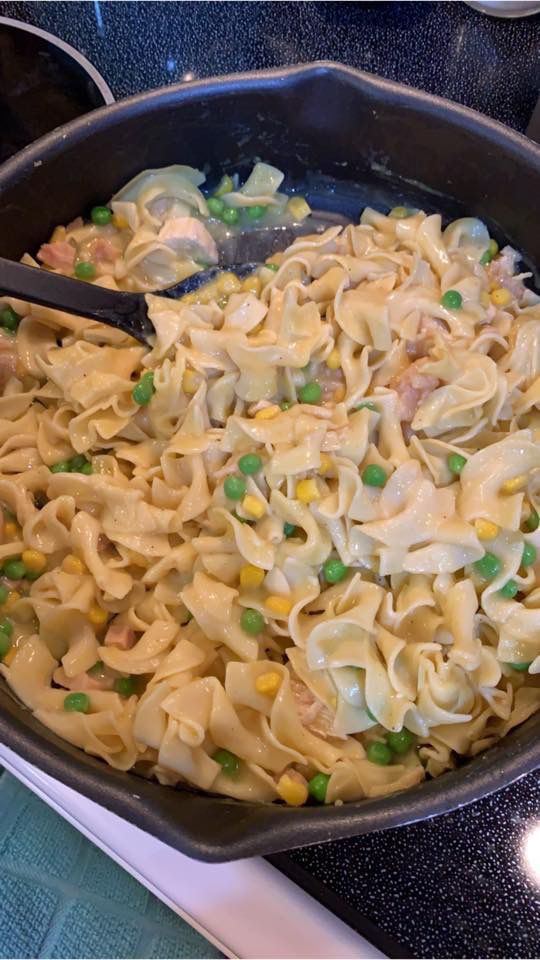 This chicken pot pie casserole combines a Pennsylvania Dutch noodle pot pie with a more traditional crust-style pot pie for a hearty and comforting meal.
Ingredients
Original recipe yields 14 servings
Ingredient Checklist
1 (8 ounce) package no-cook lasagna noodles
3 (10.5 ounce) cans condensed cream of chicken soup
3 cups milk
2 tablespoons dried parsley flakes
2 tablespoons dried minced onion
1 tablespoon onion powder
1 tablespoon chicken soup base
2 teaspoons garlic powder
2 teaspoons ground black pepper
1 teaspoon salt
2 (2 pound) whole rotisserie chickens, meat shredded and bones discarded
1 (8 ounce) package shredded Cheddar cheese
½ (8 ounce) package shredded Italian cheese blend
1 (10 ounce) can refrigerated buttermilk biscuits, separated and cut into quarters
Directions
Instructions Checklist
Step 1
Preheat the oven to 425 degrees F (220 degrees C). Break lasagna noodles into pieces. Grease a large oven-proof dish.
Step 2
Combine condensed soup, milk, parsley, minced onion, onion powder, soup base, garlic powder, pepper, and salt in a large mixing bowl; stir until smooth. Stir in broken lasagna noodles until combined. Gently fold in shredded chicken until incorporated. Carefully pour chicken mixture into the prepared dish, smoothing out the top evenly.
Step 3
Bake in the preheated oven until noodles are almost tender, 25 to 35 minutes.
Step 4
Remove from the oven and sprinkle with 1/2 of the Cheddar cheese and all of the Italian cheese. Layer the biscuit chunks in a single layer over top, and sprinkle with remaining Cheddar.
Step 5
Return to the oven and bake until biscuit dough is thoroughly cooked, 15 to 20 minutes. Tent with foil if the edges start to get too brown. Remove from the oven and let cool for 5 to 10 minutes before serving.