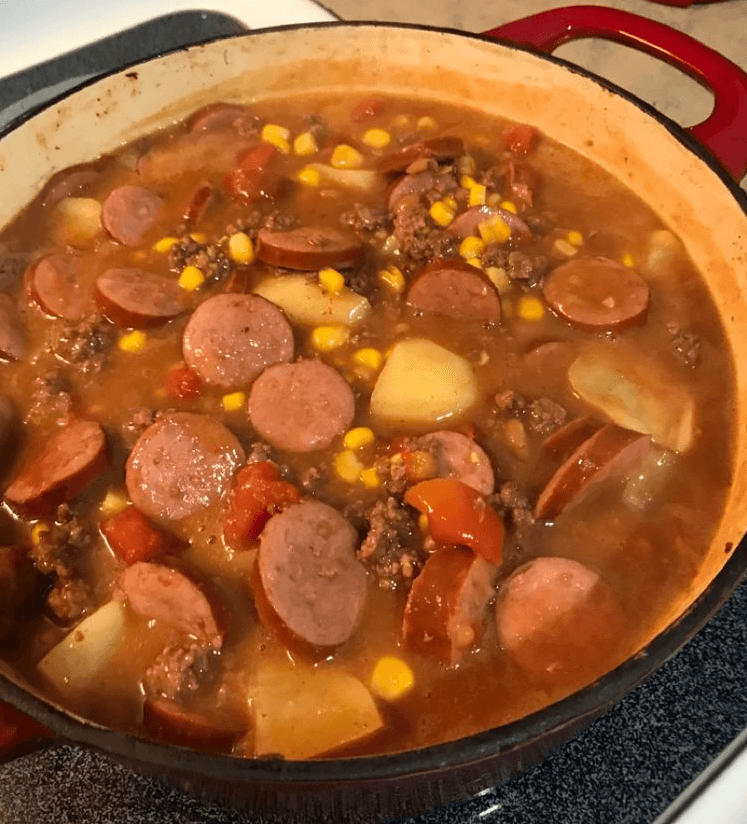 My cowboy stew recipe is one part beef stew, one part chili, five parts DELICIOUS!
Love hearty stew recipes? You'll flip for this! With the tender meat of an Instant Pot beef stew and the veggies and beans of a Brunswick stew, cowboy stew takes the best parts of your favorite recipes and simmers them to perfection.
The only thing it doesn't have is a nod to chicken stew…but hey, let's throw in some shredded poultry! Why not? Cowboy stew welcomes every ingredient!
Bring your appetite and let's get cooking!
INGREDIENTS
4 slices bacon, chopped
2 (12-ounce) package kielbasa sausage, cut into 1/2 inch slices
1 1/2 pounds ground beef, 80/20
1 medium onion, diced
3 cloves garlic, minced
3 tablespoons all-purpose flour
1 1/2 teaspoons salt
1/2 teaspoon black pepper
1 teaspoon chili powder
1 (14.5-ounce) can petite diced tomatoes, with liquid
2 (16-ounce) cans baked beans, with liquid
1 (7-ounce) can chopped green chilies, with liquid
1 (15-ounce) can sweet corn, with liquid
2 medium russet potatoes, peeled and cut into 1/2 inch cubes
1 cup water
2 tablespoons parsley, chopped
INSTRUCTIONS
Cook bacon until brown and crispy in a large pot. Using a slotted spoon, transfer bacon to a plate lined with a paper towel to drain.
Add the sausage to pot drippings and brown on both sides, adjusting heat as needed so fond (brown bits on the bottom of the pot) does not burn. Remove to the plate with bacon; set aside.
Add beef, onion, and garlic to the pot and brown until the beef is no longer pink. Sprinkle flour, salt, pepper, and chili powder over beef. Stir and cook for 1 minute.
Add diced tomatoes, baked beans, green chilies, sweet corn, potatoes, bacon, sausage, and water. Bring to a boil then immediately reduce heat and simmer, covered, for 1 hour, stirring occasionally.
Garnish with parsley.
Add additional water if stew is too thick.