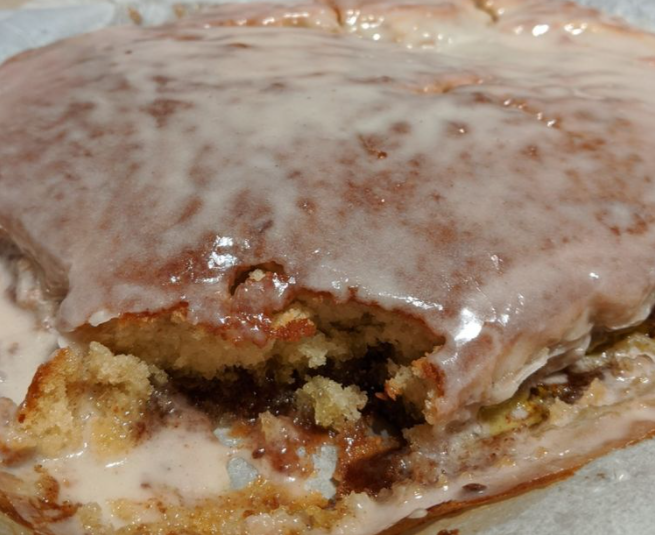 HOMEMADE CINNAMON ROLL CAKE
Are you one of those folks whose eyes glaze over when you see a recipe that has more than 5 ingredients? You completely lose interest and skip on to the next one. Yeah, I know the feeling. It's kinda how I felt about this one when I first saw this recipe for Cinnamon Roll Cake. But then I heard all the great reviews everyone was giving it and I knew I had to make it!
CAN I SUBSTITUTE WITH A BOXED CAKE MIX?
Yes you could. You could use a vanilla cake mix and then just make the cinnamon roll filling and swirl it around. Then continue with the rest of the baking instructions. I think a butter pecan, white and yellow boxed cake mixes would all work as well.
Cinnamon Roll Cake
Ingredients:
Cake:
3 c. flour
1/4 tsp.salt
1 c. sugar
4 tsp. baking powder
1 1/2 c. milk
2 eggs
2 tsp. vanilla
1/2 c. butter, melted
Topping:
1 c. butter, softened
1 c. brown sugar
2 Tbsp. flour
1 Tbsp. cinnamon
Directions:
Mix everything together except for the butter. Slowly stir in the melted butter and pour into a greased 9×13 pan. For the topping, mix all the ingredients together until well combined. Drop evenly over the batter and swirl with a knife. Bake at 350 for 28-32 minutes.
Glaze:
2 c. powdered sugar
5 Tbsp. milk
1 tsp. vanilla
While warm drizzle the glaze over the cake.