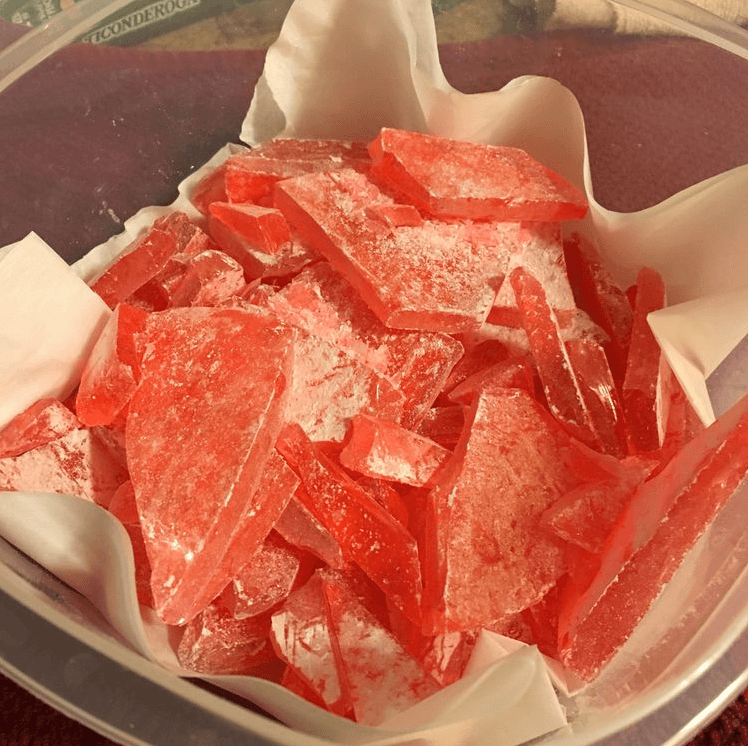 It's fast approaching time to make gifts for the holiday and obviously, my go-to gift is homemade treats from my kitchen. Normally I go all out and make cookies, bread or rolls. This year I wanted something a bit more simple, but still festive red and bursting with flavor. I'm making old-fashion Cinnamon Rock Candy (also known as Cinnamon Hard Candy) this year to add some sweetness to my holiday gifts.
Cinnamon Rock Candy
I've been making these candies since I was a teen. I have both a sweet tooth and a fondness for cinnamon, so I love this candy. The way it looks in a glass jar, bright red and dusted with snow-white powdered sugar, will make you love it too!
This page may contain affiliate links, please see my full DISCLOSURE for policy details.
These pretty little candies look so festive in decorative mason jars or sitting on a buffet table for the holidays. If you manage not to eat them all, they make the perfect gifts for teachers, coworkers, the next-door neighbor, or even the dog walker. Who wouldn't love this sweet gift for the holidays?
Can you make other flavors of rock candy?
Why yes, you can! There are endless possibilities. I recommend using LorAnn's Flavoring Oils. There are so many flavors to choose from. Make sure to change the food coloring to match the flavor.
Orange
Strawberry
Peppermint
Cherry
Grape
Lemon
and more….
With only six ingredients these candies are very simple to make.
Sugar
Water
Light Corn Syrup
Cinnamon Oil
Red Food Color
Powdered Sugar
Ingredients:
1 cup water
3 3/4 cup sugar
1 1/4 cup light corn syrup
1 tsp red food coloring
1 tsp cinnamon oil (2 tsp. if you like it spicy)
1 1/2 cup powdered sugar
1 butter, for greasing the surface

Directions:
1 butter a 15 inch x 10 inch x 1 inch sheet cake pan. Line the pan with parchment paper and butter the parchment paper, making sure the edges of the parchment paper are well buttered to prevent the candy from seeping underneath.
2 in a large deep sauce pan combine water, sugar, corn syrup and food coloring. Mix over medium high heat until sugar starts to dissolve. Attach a candy thermometer to the side of the pan making sure it does not touch the bottom of pan for an accurate temperature. Continue to boil until sugar mixture reaches 300°F (hard crack stage) – about 20 minutes. Watch closely, if mixture starts to boil too close to the edge of pan remove pan from heat and stir until bubbles subside and then return to medium high heat.
3 Once mixture reaches 300°F remove pan from heat and stir in the cinnamon oil, working quickly. Keep your face away from the mixture as it is strong like onions and keep the work area well ventilated. Pour immediately into prepared pan. Allow to cool for 4 hours.
4 after 4 hours dust the top of the candy with powdered sugar. Flip candy over onto a large cutting board or cookie sheet and remove parchment paper. Return candy to the pan and use the tip of a sharp knife to break candy into bite size pieces. Dust with more powdered sugar and store in a airtight container.