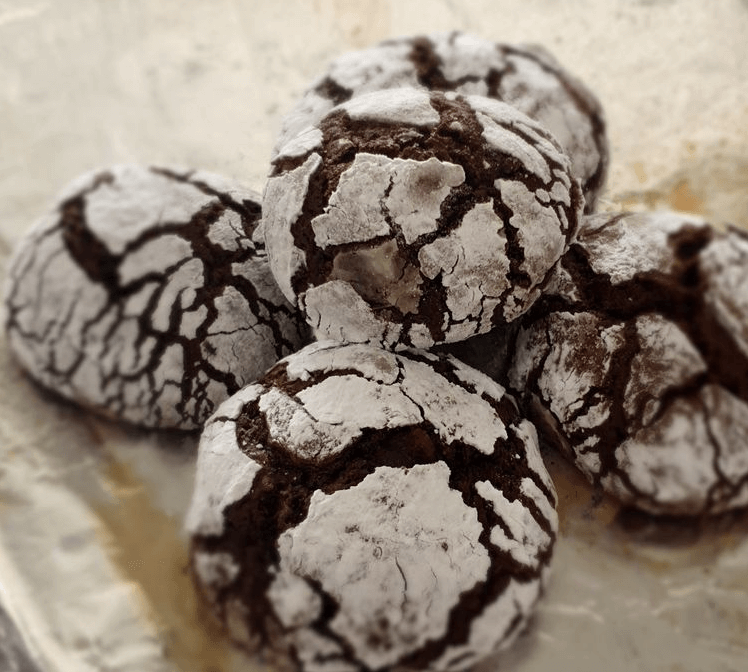 These chocolate crinkle cookies are fudgy on the inside with a crisp outside edge! So rich and decadent and adored by any and all chocolate lovers. Doesn't get better than this crinkle cookie recipe!
If you love all things chocolate, you're going to love these chocolate crinkle cookies. They are full of delicious chocolate flavor and have the best texture. You'll also love my triple chocolate chip cookies, hot chocolate cookies, German chocolate cookies and peanut butter stuffed chocolate cookies.
I've been making these chocolate crinkle cookies for several years after getting the recipe from a friend at a cookie exchange. These crinkle cookies are so rich and decadent and adored by any and all chocolate lovers. They also add the perfect dimension to any cookie plate or platter.
INGREDIENTS
1/2 cup vegetable oil
2 cups granulated sugar
4 large eggs
2 teaspoons pure vanilla extract
2 cups all-purpose flour
1 cup unsweetened cocoa
2 teaspoons baking powder
1/2 teaspoon salt
1/4 cup confectioners sugar (more if needed)
INSTRUCTIONS
Whisk together the oil and sugar in a large bowl (or use a stand mixer). Add in eggs and vanilla and whisk until well combined.
Whisk together flour, cocoa powder, baking powder and salt in a separate bowl. Slowly pour the flour mixture into the sugar mixture and stir until well combined. Chill the dough in the refrigerator for 15 to 30 minutes.
Preheat the oven to 350°F. Shape dough into 1 1/2 inch balls (I liked to use a medium cookie scoop). Place confectioners' sugar in a small bowl and roll each cookie in the sugar.
Place cookies onto a baking sheet lined with parchment paper. Bake 8 to 10 minutes, or until the cookies are slightly crisp around the edges and soft in the middle. Allow to cool on the pan for 2 minutes, and then transfer to a cooling rack.