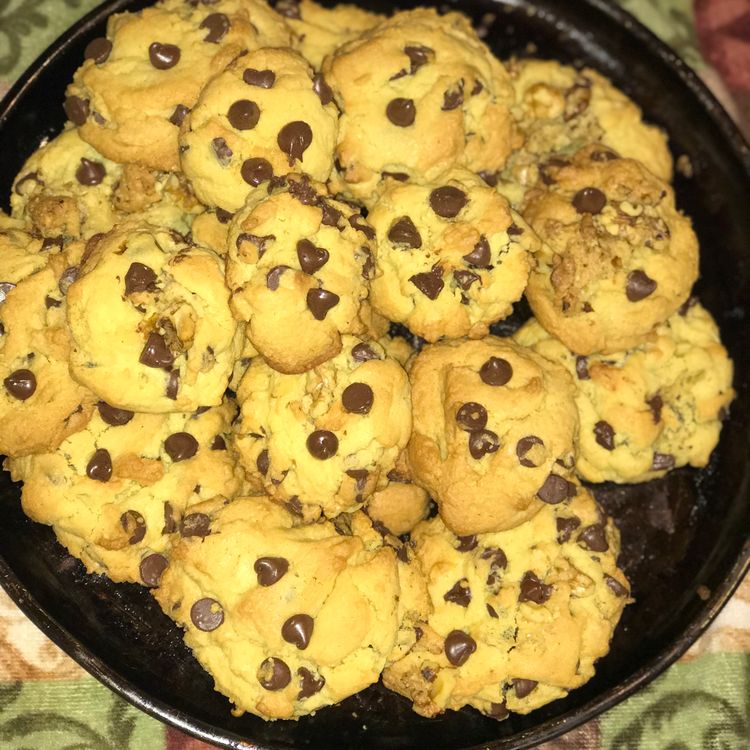 Chocolate chip pudding cookies are a great thing. They stay soft and fluffy for days and they taste fabulous.
I've been addicted to chocolate chip cookies my whole life. However, last year I discovered pudding cookies.
Despite the fact that we try to avoid as much packaged food as possible, I can't resist the urge to occasionally buy the pudding needed for these cookies.
So far, pudding cookies are the only variety of chocolate chip cookies that I have been able to successfully convert to a whole wheat variety that is still soft and chewy.
So I'm compromising on pudding, thinking that whole wheat makes up for it. It makes sense, doesn't it?
Cookies freeze very well, just like cookie dough. For your information, both the cookies and the dough taste great right out of the freezer. Yes, I just admitted it.
Ingredients
2 1/4 cups all-purpose flour
1 teaspoon baking soda
1 cup softened butter
3/4 cup packed light brown sugar
1/4 cup white sugar
1 3.4 oz. pack of instant vanilla pudding
2 eggs at room temperature
1 teaspoon vanilla extract
2 cups semi-sweet chocolate chips
Instructions
Preheat the oven to 350 degrees. Whisk together flour and baking soda and set aside. In a large bowl, cream the butter and sugars. Add the pudding mix and beat until light and fluffy.
Add eggs and vanilla and beat until smooth. Slowly add the flour mixture, making sure it is well incorporated. Finally, add the chocolate chips and stir well to mix into the entire dough.
I use my medium spoon to make the cookies evenly sized. I like to bake about half of the batch and then freeze the rest of the dough. When I'm ready to use it, I just put it on the counter for 20 to 30 minutes and then spoon out the number of cookies I want to bake at that time.
I bake them on a silpat mat for 11 minutes. I let them cool on the baking sheet for 5 minutes and then I put them on racks. Enjoy your meal!