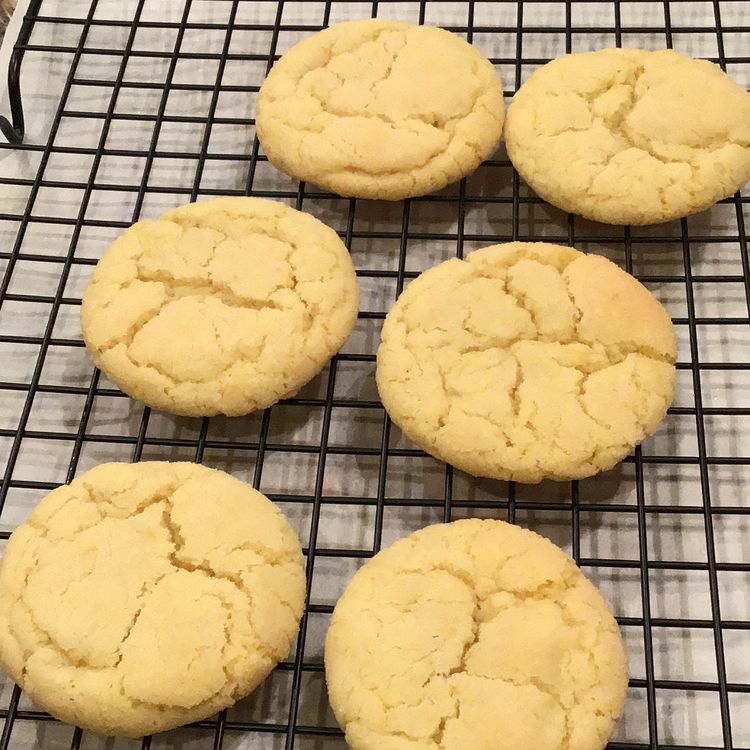 Ingredients
All-purpose flour
Baking soda
Baking powder
Salt
Sugar
Cream cheese
Lemon
Unsalted butter
Vegetable oil
Egg
Milk
Vanilla extract
Lemon extract
How to Make Lemon Cookie Recipe
Step 1. Adjust the oven racks to the upper- and lower-middle positions and heat the oven to 350 degrees F. Line 2 large baking sheets with parchment paper.
Step 2. In a medium bowl, whisk together flour, baking soda, baking powder, and salt.
Step 3. In a large bowl, combine 1 1/2 cups of sugar, lemon zest, and cream cheese in a large bowl. Pour the warm butter over the cream cheese mixture and whisk to combine. Whisk in the oil, egg, milk and lemon juice until smooth. Use a rubber spatula to fold the dry ingredients into the wet, until a soft dough comes together.
Step 4. Place the remaining ⅓ cup sugar for rolling in a shallow bowl. Roll two heaping tablespoons of dough into ball between your palms, roll the ball in the sugar, and then place it on the prepared baking sheet spacing the balls about 2 inches apart (you should be able to fit 12 cookies on each sheet). Butter the bottom of a drinking glass and then dip the bottom of the glass in the remaining sugar. Flatten the dough balls with the bottom of the glass until they are about 2 inches in diameter, dipping the glass in sugar as necessary to prevent sticking (after every 2 or 3 cookies). Sprinkle the tops of the cookies with the remaining sugar, using about 2 teaspoons per sheet of cookies.
Step 5. Bake until the cookies one sheet at a time until golden brown around the edges and their center are just set and very lightly colored, 11 to 13 minutes. The tops will be puffy and slightly cracked. Transfer the baking sheet to a wire rack and let the cookies cool on the sheet for 5 minutes then using a wide metal spatula, transfer the cookies to the rack to cool completely.