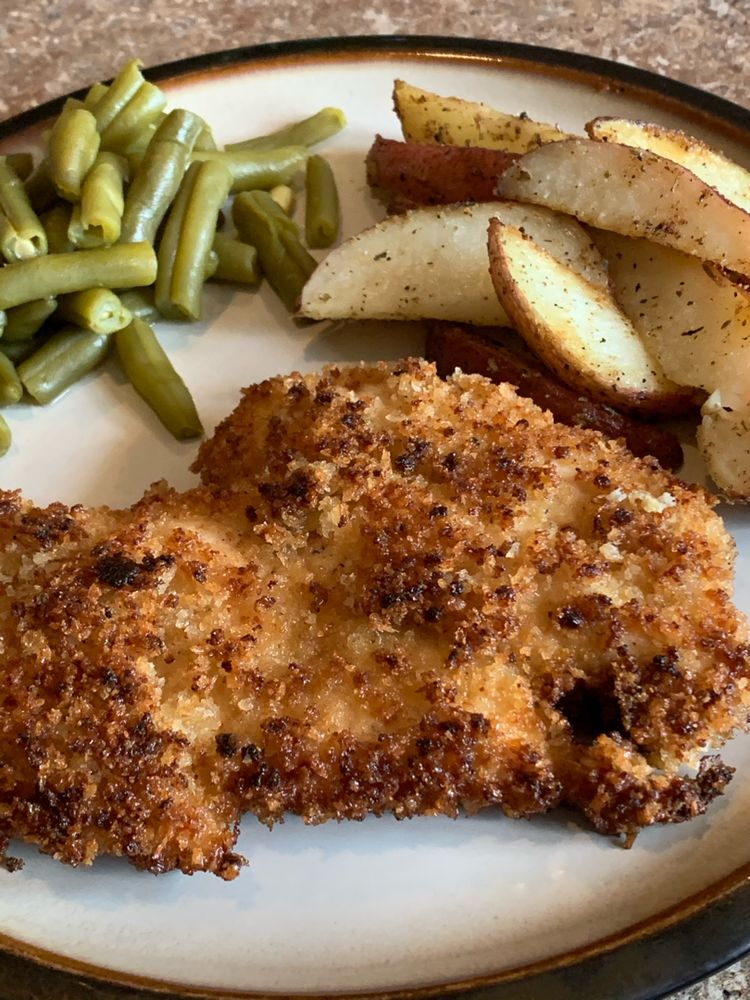 Growing up, chicken schnitzel was a classic. I decided to make this dish oven-friendly using less oil, and an easier cleanup. This dish tastes great with potato salad, or mashed potatoes and a nice crisp salad. Tastes great the next day cold too! It's a family-favorite! Enjoy with fresh squeezed lemon juice.
Made following recipe exactly, except we didn't flip the chicken and it certainly wasn't soggy. We had great praise from the 56 people to whom we served it. Easy to make.
Extremely delicious dish, and an excellent recipe as written. It's definitely worth the mild annoyance of dredging/coating. It was very good even with store-brand seasoned bread crumbs.
Excellent!!! We loved this chicken. So much flavour and far less oil than the traditional cooking method. I made this exactly as written and can't think of anything that would improve it.
INGREDIENTS :
1 tablespoon olive oil, or as desired
6 eaches chicken breasts, cut in half lengthwise (butterflied)
1 pinch salt and ground black pepper to taste
¾ cup all-purpose flour
1 tablespoon paprika
2 large eggs, beaten
2 cups seasoned bread crumbs
1 large lemon, zested
INSTRUCTIONS :
Step 1: Ready the oven and preheat to 220 degrees C or 425 degrees F.
Step 2: Arrange a line of aluminum foil in a large baking sheet then drizzle a generous amount of olive oil over the foil.
Step 3: Put the prepared baking sheet into the preheating oven.
Step 4: Place the chicken breasts on a clean plate and lightly press them to flatten into 1/4-inch thickness. Season with salt and pepper to taste.
Step 5: On a large plate, add in the flour and paprika. Whisk until well mixed.
Step 6: In a medium shallow bowl, add in the eggs. Season with salt and pepper then whisk until well mixed.
Step 7: In another large plate, combine bread crumbs and lemon zest.
Step 8: Dip each chicken into the flour mixture, egg mixture, and bread crumbs mixture.
Step 9: Arrange the dipped chicken breasts into the baking sheet. Drizzle olive oil over the chicken breasts.
Step 10: Place the baking sheet into the preheated oven and bake for 5 to 6 minutes or until cooked through.
Step 11: Remove from the oven. Serve and enjoy!