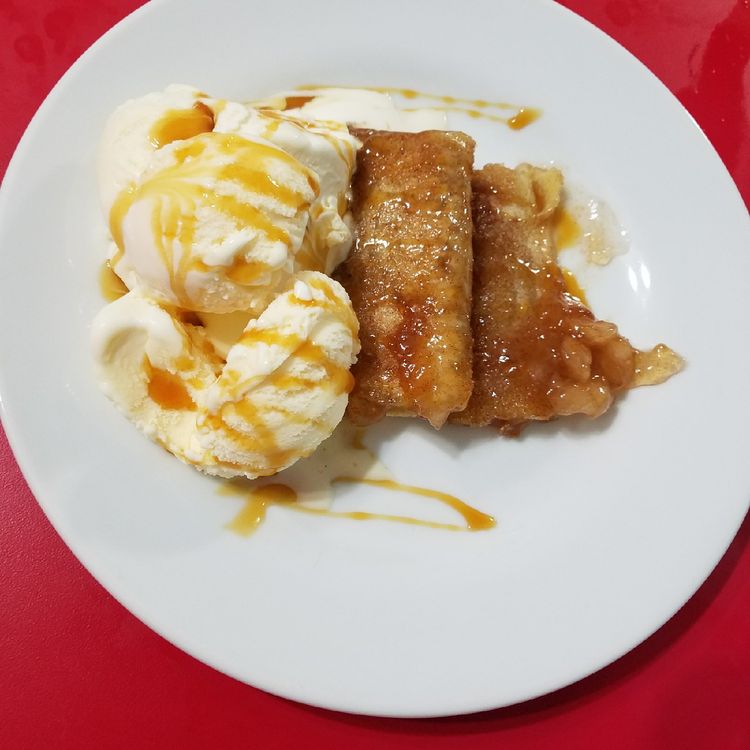 Apple Pie Taquitos – crispy, sweet, and delicious, these taquitos are simple to make. All the makings of a great apple pie, in a fun taquito form. Genius! 
Apple Pie Taquitos
Because it's a weekday, let's celebrate with something sweet, why not. And because these apple pie taquitos are so easy to make, that you can make them on a weekday, in the morning, after work, whatever strikes your fancy. But even better than that, these taquitos are so good, you'll thank me.
I have to tell you, I had fun making these taquitos. They only require 5 simple ingredients; apple pie filling, sugar, cinnamon, butter and tortillas. All the makings of a great apple pie, but in an adorable taquito form. I have to admit the idea is simply genius.
What Are Taquitos?
It's essentially just a rolled up taco, that's it! You fill a tortilla with whatever filling your heart desires, roll it up and crisp it. I took some creative license today and stuffed these full of apple pie filling, we're turning savory into sweet and believe me it's beyond worth it.
I drizzled mine with some caramel sauce because that's just how I roll. Not saying you need the caramel sauce, but I just think of ways to take something amazing and make them more decadent.
Ingredients
12 Flour Tortillas
1 jar (5 oz.) Caramel Sauce
1 can (20 oz.) Apple Pie Filling diced
1/4 cup melted Butter
1/4 cup Sugar
1 teaspoon Cinnamon
1/4 teaspoon Nutmeg
Instructions
Preheat oven to 350 F.
Butter a 9×13″ dish and set aside.
Combine Sugar, cinnamon and nutmeg in a shallow dish and mix well. Set aside.
Dice apple pie filling into small size pieces.
Microwave tortillas for 20 seconds to soften.
Spread tortilla with thin layer of caramel sauce down the middle.
Cover caramel with diced apple filling.
Roll tortilla and place in prepared dish.
Brush with butter and sprinkle with sugar mixture.
Repeat with remaining tortillas.
Bake for 15 minutes of until golden and bubbling on ends.