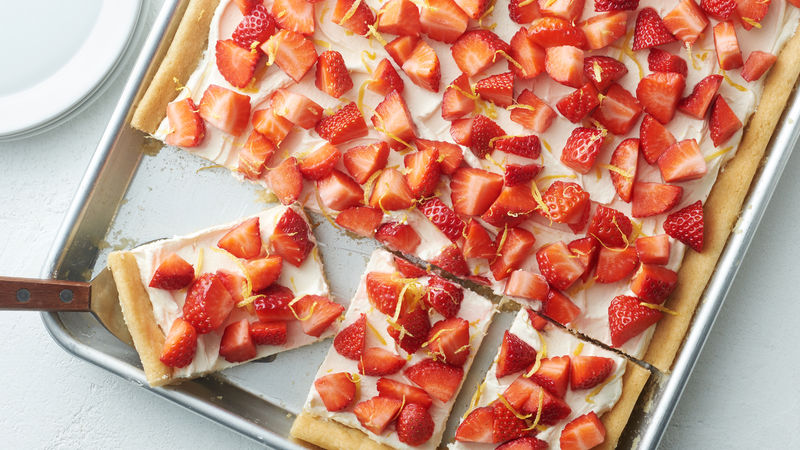 It's time for another baby shower! Erin and Caroline got a group of bloggers together to throw Georgia, from The Comfort of Cooking, a virtual baby shower.
We are all excited for her as she is expecting her first child, a sweet baby girl!
Since we can't all be together to celebrate (and eat delicious food!) in person, we're doing the next best thing. All of us are sharing a pink treat perfect for a baby shower!
My mind instantly went to the fun pink color that strawberries make desserts. Since it's finally starting to warm up, I've had strawberry lemonade on my mind and wanted to create that flavor in a dessert.
These strawberry lemonade frosted sugar cookie bars were just that dessert. Thick, chewy sugar cookie bars are topped with a thick layer of fresh strawberry lemon buttercream frosting.
The frosting gets its fresh flavor from pureed strawberries, lemon zest, and lemon juice. The combination tastes like summer-y, sweet strawberry lemonade.
A fun, festive flavor for a spring party or gathering!
In keeping with the party theme, I cut the cookie bars into small, bite-size pieces. If you don't want such thick layers of cookie and frosting, you can easier make these in a 9×13 inch pan. Just make sure to check on the cookie layer when it's baking a few minutes early.
Ingredients
2 rolls (16.5 oz each) Pillsbury™ refrigerated sugar cookies
Please continue to Next Page (>) for the full list of ingredients and complete cooking instructions.