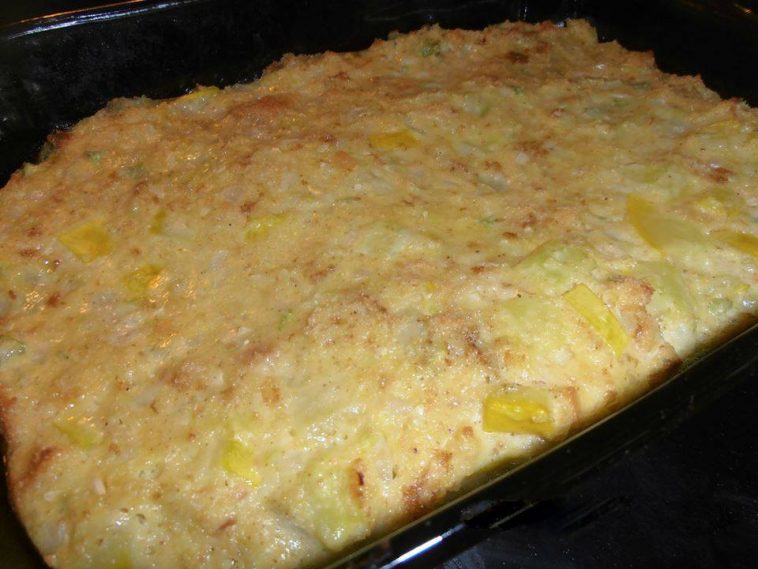 Reviews for: Squash Dressing
This is the recipe I submitted but I do not steam my squash. I slice it and then boil it in water for about 15-20 minutes or until tender. I drain the water off before adding the squash to the rest of the ingredients. This is really good. Hope you like it.
I've made this recipe twice lately, once for a weekend at the lake and again for my in-laws. I made one addition and that was chopped celery (simply because we put celery in our holiday dressing). Everyone raved about it. It is something I will keep on hand in the freezer.
It's like Thanksgiving in the summertime. So delicious. As one reviewer suggested, I boiled the squash and I added to onion and boiled that too. I even used fat free milk and fat free butter spray. The only change I would suggest is an increased cooking time. I prefer my dressing a little drier and this was very moist and mushy (but I still ate three helpings :).
– This recipe is absolutely heavenly. The only alteration I make is I add 1 to 2 teaspoons of garlic powder to it and usually bake for about 40 minutes to get a slightly browner appearance. My wife works for a home for the physically and mentally challenged, and the clients demand that I fix this for them once a week to serve as a side with their supper, they enjoy it so much.
Ingredient :
3 C. chopped yellow squash
3 C. crumbled cornbread
10.5 oz. cream of chicken or celery soup
1/2 C. diced celery
1/3 C. diced onion
1 stick of butter, melted
3 large eggs, beaten
1/2 tsp. poultry seasoning
1/4 tsp. pepper
pinch of salt
How to make it : 
Cook the squash in boiling water till tender, drain well. Place the squash in a bowl and add the remaining ingredients. Once well combined pour into a lightly greased 9×13 pan. Bake in a 350 degree oven for 45 minutes.