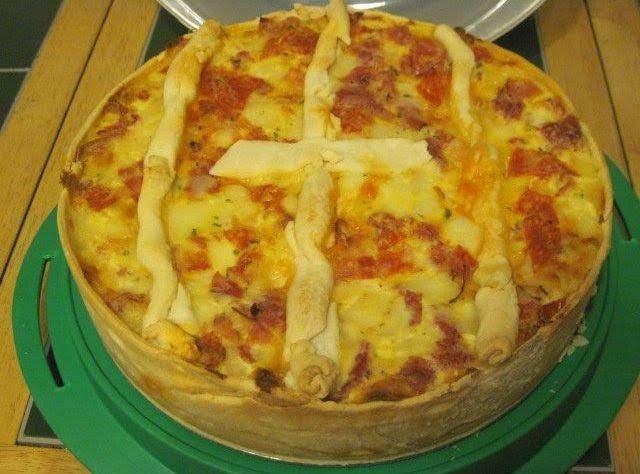 Pizza Chena (made with Italian meats, cheeses, and eggs) is a staple on every Italian Easter dinner table. My mom or an aunt would make it every year. I never appreciated it as a child but I love it now. Everyone has their own recipe and everyone thinks theirs is the best. So I collected recipes from relatives and friends and took the best of all their recipes to come up with my own. Now mine is the best!!! LOL
-Going to try this recipe for the first time this Sunday and I cannot wait! I'm also going to be making stuffed artichokes, salad and Ricotta pie. Sorry to hear about the sad news but I will make sure to make this in her honor! I'm very thankful for this lady sharing her recipe so I can add it to my book so I can pass it on to my kids to use when they get older. New family tradition…Happy Easter! 🙂
-as someone who has made this pie every Easter for the past 5 years I have to say…. don't put the sauce in it….. leave it on the side. It's a different taste than a traditional pizza so they may not even want the sauce after it's offered! My family is also die hard pizza fans but this is by far the MOST FAVORITE meal of the entire year at our house. I would make it in the largest spring-form pan you have because it's going to be a total hit and if you don't make it big you may not end up with any. (I speak from experience) Serve it with a salad at lunch or dinner time and it's a full meal. Start with small slices as it is VERY filling. Sadly I will tell you that Joanne passed away but she would be so glad to know that we are all still loving this amazing recipe! Have a very happy Easter and ENJOY!
Cook time: 1 Hr 15 Min Prep time: 2 Hr Serves: Lots!
Ingredients
DOUGH
ok, i cannot tell a lie…i used pillsbury all ready pie crust to save time. but by all means feel free to make your own.
1 packet of active dry yeast
1 Tbsp sugar
1 tsp salt
2 c warm water
5-6 c flour
2 Tbsp olive oil
FILLING
1/2 lb sweet italian sausage (or hot if you prefer) removed from the casing
3 eggs, beaten
2 eggs, hard boiled and chopped
1 lb ricotta cheese
1/3 lb fresh mozzarella cut into bite size pieces
1/4 c grated parmesan or romano cheese
1/4 lb priscuitto (or american ham if you prefer), sliced and cut into 1 inch pieces
1/4 lb genoa salami, sliced and cut into 1 inch pieces
1/4 lb pepperoni, sliced and cut into 1 inch pieces
parsely flakes and pepper to taste (you can add a little salt, to taste but remember the meats are salty so don't add too much salt)
1 egg yolk for egg wash
Directions
1. If making the dough…….
2. In a large bowl, dissolve in two cups of water, yeast, sugar and salt and gently blend. After the yeast has disolved, add 5 cups of flour and 2 Tbsp Olive Oil. Blend with a spoon until the dough starts to form and then transfer to a floured surface and knead for about 5 to 10 minutes. (Add additional flour if dough is too sticky.) Place dough in large bowl and coat with a little olive oil. Cover and let rise for 2 hours. After the dough has risen, punch it down and divide it into two pieces. Roll out each piece and place one piece in a 10 inch spring form pan sprayed with Pam. The dough should hang about an inch over the sides.
3. Now on to the filling…….
4. Brown the sausage, breaking it up into small pieces with a wooden spoon.
5. In a large bowl, add the three beaten eggs, Ricotta, Mozzarella, Parmesan, chopped eggs, meats and seasonings. Mix well.
6. Pour the filling into the pastry crust – mine filled to about an inch from the top. Cut the top crust to fit the round pan. Place the round crust on top of the filling. Crimp around the edges – I
Italian Easter Pie (Pizza Chena)
used a fork. Cut two strips of leftover dough to make a cross. Place the dough cross on top of the Pizza Chena. Cut slits in dough to vent.
7. Beat the egg yolk and brush on top of the Pizza Chena.
8. TIP: If using All Ready Pie Crust – You will need to roll out the bottom crust to make it large enough to fit in the spring form pan. Spray the pan with Pam and then carefully place the crust in the pan – the sides may hang over just a little.
9. Bake at 350 degrees for 60 – 75 minutes or until to is golden brown.
10. NOTE: Pizza Chena is best when made a day or two ahead of time. Let it cool and then store in frig. Bring to room temp before serving!
Last Step: Don't forget to share!