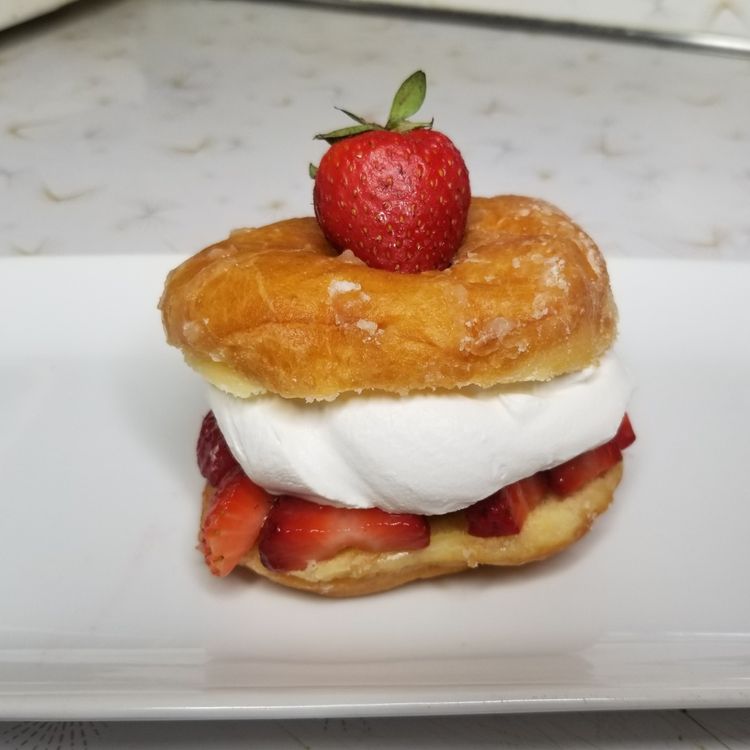 A delightful twist on traditional strawberry shortcake using a glazed doughnut. Easy to prepare, yet an impressive dessert! Use store-bought doughnuts or your own glazed doughnut recipe.
OMG! I saw this and absolutely had to try it! This definitely is a delightful twist on traditional strawberry shortcake. It's so easy and it's a great way to use up glazed doughnuts.
Seriously?! This idea is genius!!!! So long spongy shortcake….hello amazingly delicious glazed donut…squishy sweet donut meets fresh juicy strawberries and creamy whipped cream…all in a single sized portion.
After you clean your berries use an egg slicer for slicing the berries and they come out the same size. lay them across as you would a hard boiled egg. Makes it faster and easier.
I have to admit I was skeptical at first. I tried this with cake doughnuts and it was really good. I used unglazed and glazed thinking the glazed might be too much but it wasn't. The glazed is definitely the way to go.
When we were younger, my mom used to use day old cake doughnuts with sliced strawberries and the old Dream Whip you made. Everything old is new again!
INGREDIENTS :
2 cups heavy whipping cream
½ cup confectioners' sugar
1 teaspoon vanilla extract
4 doughnut (3-3/4″ dia)s glazed doughnuts, halved horizontally
1-quart strawberries, hulled and sliced
INSTRUCTIONS :
Step 1: In a metal mixing bowl, add in the sugar, cream, and vanilla extract. Use an electric mixer to beat until stiff peaks form.
Step 2: Arrange 1/2 of the doughnut on the bottom of a clean plate.
Step 3: Spread about 1/4 of the whipped cream mixture on top of the doughnut.
Step 4: Spread 1/4 cup of sliced strawberries on top of the whipped cream layer.
Step 5: Spread another 1/4 cup of the whipped cream mixture on top of the strawberries then cover it with the other half of the doughnut.
Step 6: Repeat this method for the rest of the doughnuts and the mixtures.
Step 7: Serve and enjoy!