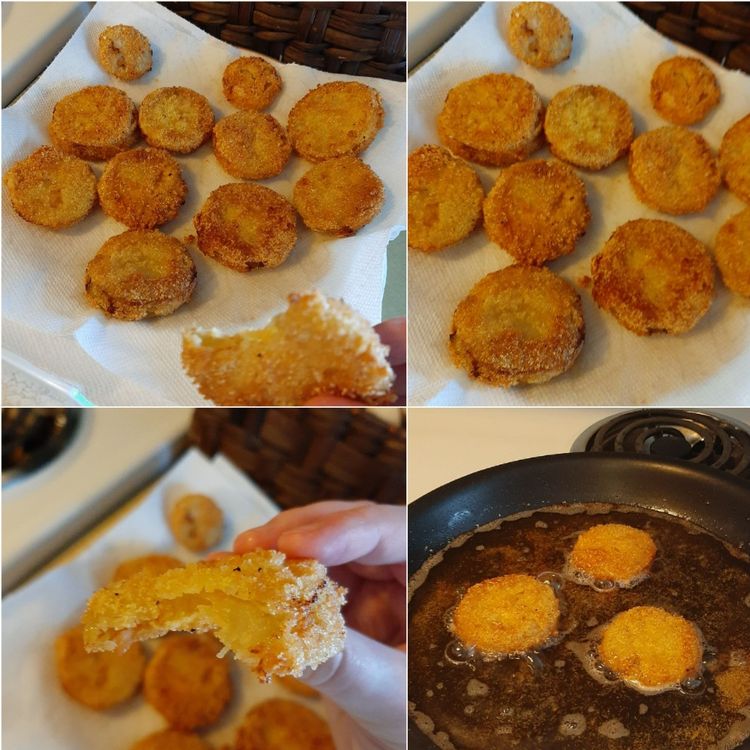 This was my first taste of fried green tomatoes. It was a great first experience. I had them with sausages, fried eggs and rice (a great Asian style meal). I topped the tomatoes with a little hot sauce and soy sauce. Yummy! Thanks for sharing, chia.
Great recipe! I didn't have buttermilk so I substituted plain yogurt. I liked it better because it was thicker. I only needed to dredged once because of the thickness. I also used coconut oil and butter mixed for the frying oil.
Thank you chia!!!! This is simply fabulous!!!! I've done fried green tomatoes in the past but these were exceptionally delicious. I started out with just a few slices to see if we would like them and I think by the time we were done we downed half a bushel 🙂 We live in Wyoming where the summers are short so now I have an even better way to use up the abundance of green tomatoes from the garden at the end of our short summers. I always have way more green tomatoes than ripe and now I don't mind that a bit. Thanks again!!!
YOU NEED:
4 large green tomatoes
2 eggs
1/2 cup milk
1 cup all-purpose flour
1/2 cup cornmeal
1/2 cup bread crumbs
2 teaspoons coarse kosher salt
1/4 teaspoon ground black pepper
STEPS:
1 quart vegetable oil for frying1. Slice tomatoes 1/2 inch thick. Discard the ends.
2. Whisk eggs and milk together in a medium-size bowl. Scoop flour onto a plate. Mix cornmeal, bread crumbs and salt and pepper on another plate. Dip tomatoes into flour to coat. Then dip the tomatoes into milk and egg mixture. Dredge in breadcrumbs to completely coat.
3. In a large skillet, pour vegetable oil (enough so that there is 1/2 inch of oil in the pan) and heat over a medium heat. Place tomatoes into the frying pan in batches of 4 or 5, depending on the size of your skillet. Do not crowd the tomatoes, they should not touch each other. When the tomatoes are browned, flip and fry them on the other side. Drain them on paper towels.
via allrecipes submitted by Diana Swenson-Siegel photo by LYNNINMA