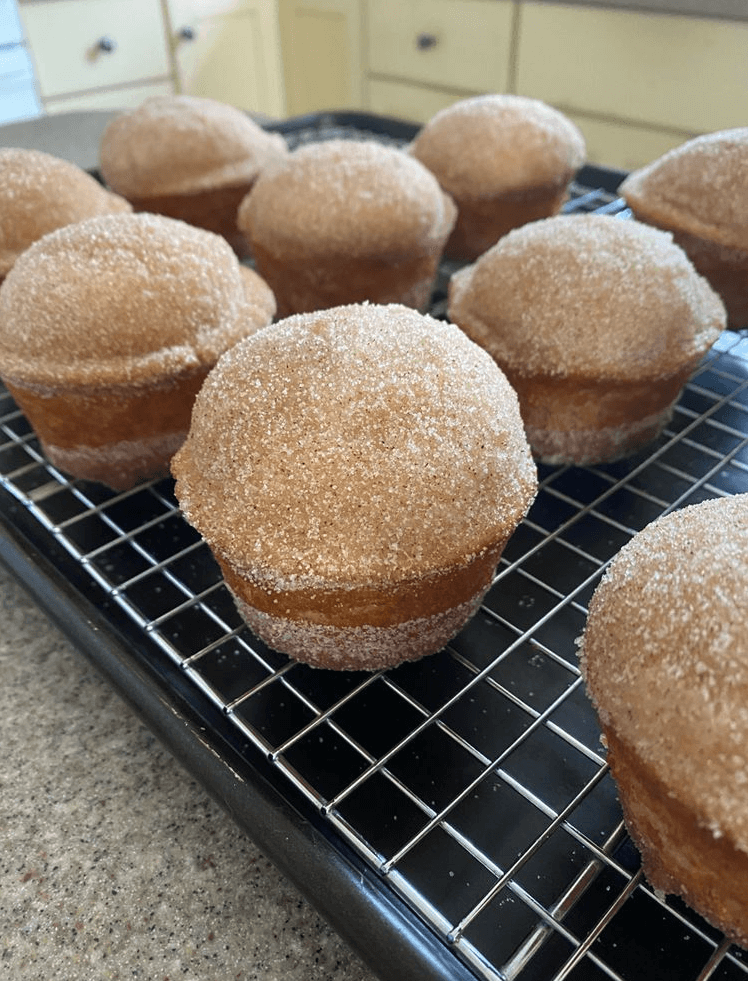 Cinnamon Sugar Donut Muffins – Cinnamon Sugar Donut Muffins are super sweet, homemade and easy to make! These buttery treats taste like an old-fashioned donut rolled in cinnamon and sugar!
Yes, I'm the person to have a soft, buttery, cinnamon sugar rolled doughnut on a glazed doughnut any day of the week!
I mean, is there anything more satisfying than licking all those good cinnamon sugar things that stick to your lips? Not really, guys. Not really!
Anyway, I've been making these doughnut muffins for years.
I think I learned how to make them during my French classes in high school…., about a billion years ago.
Of course, I would remember the muffin recipe, but not a single word of French!
But no matter how long it's been, these muffins have become my child's favorite breakfast treat.
And mine too.
Usually, treats like these are reserved for weekend breakfasts – BUT, the school is closed for the summer.
I think that's a good excuse to make them on a Tuesday.
Basically, I'll find any excuse, these are very good.
The real muffin is a super simple dough.
But don't be fooled by the simplicity – they have that incredibly light vanilla and spice taste.
Then, when they come out of the oven, I usually give them just long enough to handle without burning my fingertips before dipping them in butter and rolling them in cinnamon sugar.
They keep very well, but they are even more delicious when eaten hot.
Make 24 mini muffins according to the size of your mini muffin tin.
Ingredients:
1/2 cup white sugar
1/4 cup butter, melted
1/2 teaspoon ground nutmeg
1/2 cup of milk
1 teaspoon of baking yeast
1 cup all-purpose flour
Topping
1/4 cup butter, melted
1/2 cup white sugar
1 teaspoon ground cinnamon
Itinerary :
Preheat oven to 375 degrees F (190 degrees C). Grease 24 mini muffins.
Mix 1/2 cup sugar, 1/4 cup margarine and nutmeg in a large bowl. Stir in milk, then baking powder and flour until well blended. Fill the prepared mini muffin cups halfway.
Bake in preheated oven until lightly browned on top, 15 to 20 minutes.
While muffins are baking, place 1/4 cup of melted margarine in a bowl. In another bowl, mix 1/2 cup of sugar with the cinnamon. Remove the muffins from their molds, dip them in the melted margarine and roll them in the sugar-cinnamon mixture. Let cool and serve.
Click on Share to save on your wall!