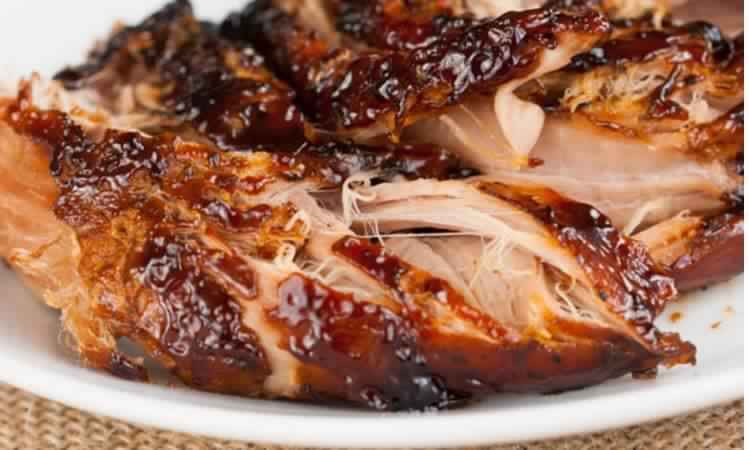 As a food blogger I am always thinking about food. In my free time, I love reading cooking magazines and cookbooks. Sometimes you wake up at 2 am and have to write down a recipe idea. And sometimes you dream about it. I dreamed about this pork the night after I made it. It is just that good!brownsugarspellThis is one of those recipes that you have to try. You throw it into the crockpot and let it work its magic. By the time it was finished and I pulled it out it was falling apart because it was so tender. But you are going to LOVE this glaze. I did a few extra steps to perfect this pork. You can just put the meat into the crockpot and pour the glaze on top. It will still be fantastic.
OR you can make it mind blowing with a few extra steps. Seriously every last bit of this pork was gone. I started by pan searing with salt and coarse pepper it to give it a dark crust before putting it into the crockpot. Then I made the glaze towards the end. I poured some sauce on the top and let it cook for about 15 minutes. I pulled the pork out of the crockpot and layed it on a cookie sheet with aluminum foil. Poured some more sauce over the top and broiled it for about 5 minutes. THIS gave it a caramelized dark crust along the top. The brown sugar and balsamic combination was pure perfection.
So good you will dream about it. This became one of my favorite pork recipes ever. This pork is so versatile you can serve it over rice, you can serve it in sandwiches, or even serve it with potatoes and use the extra sauce as gravy. How ever you serve it you have to serve it. 🙂 I promise this is one you will love!
Ingredients
2 pounds Pork tenderloin
1 teaspoon Ground sage
½ teaspoon Salt
¼ teaspoon Pepper
For Ingredients And Complete Cooking Instructions Please Use The Next Page Button Or Open Button (>) Below and don't forget to SHARE with your Facebook friends