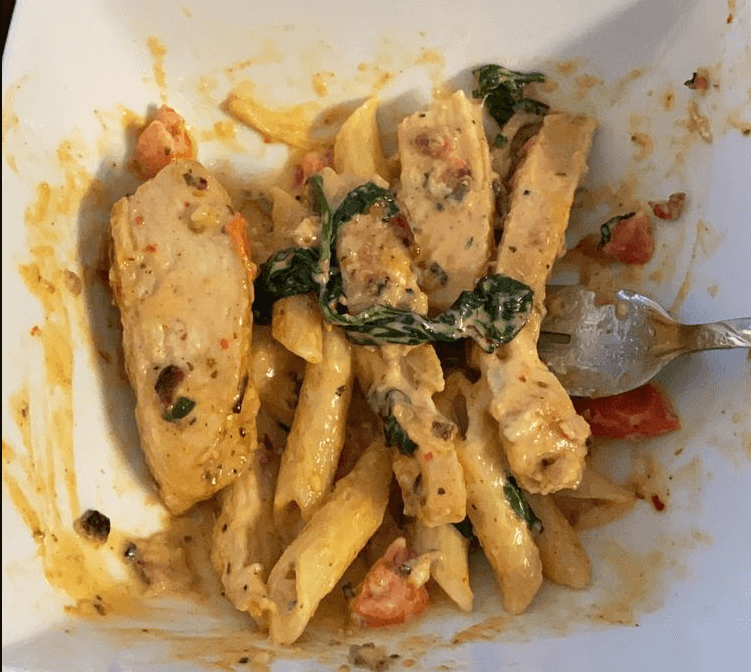 Creamy chicken pasta with bacon is easy to make weeknight one pot pasta dish! With only 30 minutes of total work, this chicken dinner recipe is simple, fast and delicious! Full of tender chicken, spinach, tomatoes, and bacon!
Creamy chicken pasta with spinach and bacon is one of my favorite things to eat! And how about you? After all, it's a very rich and indulgent treat for dinner. I also love that it only takes about 30 minutes to make it. This easy pasta recipe will yield about 4 servings.
By the way, you can easily double if you are feeding a crowd or want extra for later. The restaurant chicken pasta just doesn't compare to this delicious homemade version with spinach, bacon and tomatoes! Once you make it, you will know what I'm talking about.
WHAT'S IN CREAMY CHICKEN PASTA SAUCE?
I made this Creamy Chicken pasta sauce using butter, heavy cream, and parmesan cheese. While the bacon and chicken are great together, I simply like to add garlic, salt, pepper, and Italian seasoning to make the sauce taste even better!
Note that it is best to use freshly grated parmesan cheese right off of the block so that your sauce isn't grainy.  I do not recommend using the "shaker" style container grated cheese for this recipe.
Ingredients
Main Ingredients:
6 bacon strips
2 tablespoons olive oil
1 pound boneless and skinless chicken (thick in size, such as chicken breasts)
salt and pepper
1 teaspoon garlic powder
1 tablespoon butter
3 garlic cloves (minced)
4 small tomatoes (diced)
2 cups spinach
1 1/2 teaspoon paprika
1 teaspoon Italian seasoning (more, if desired)
1/4 teaspoon crushed red pepper flakes
1/2 teaspoon salt
1.5 cup heavy cream
1 cup Parmesan cheese shredded (more for garnish)
Pasta:
10 oz. penne pasta
2 tablespoons Parsley (chopped)
Instructions
BACON: Add bacon strips to the skillet and cook until crispy. Transfer cooked bacon to a paper towel-lined platter that will absorb extra grease. Chop into 1 inch pieces
CHICKEN: Paper towel dry the chicken and season with salt, pepper and garlic powder. Then set aside.
Heat olive oil in a large deep skillet. Add chicken breasts and cook on each side on medium high heat for about 4 minutes per side (for a total of 8 minutes) until nicely browned. If chicken is still pink in the center, reduce heat to medium and cook covered for several minutes until no longer pink in the center. Remove chicken from pan and slice it.
Add butter to the hot pan and once it melts, add chopped garlic and cook for 1-2 minutes until fragrant.
Add tomatoes and cook for 3 minutes on high until tomatoes release their juices. Add fresh spinach and cook until it wilts.
Season with paprika, Italian seasoning, crushed red pepper flakes and salt. Mix.
Next add heavy cream and bring the mixture to boil. Reduce to simmer and slowly addParmesan cheese – until the cheese melts and makes the sauce creamy.
PASTA: In the meantime bring a large pot of water to boil, add pasta and cook it according to instructions. Drain the pasta, but do not rinse.
Add sliced chicken, bacon and pasta. Next add chopped parsley. Stir until fully coated in sauce. Season with more salt if necessary.
TO SERVE: Serve with additional shredded Parmesan and red pepper flakes, if desired.