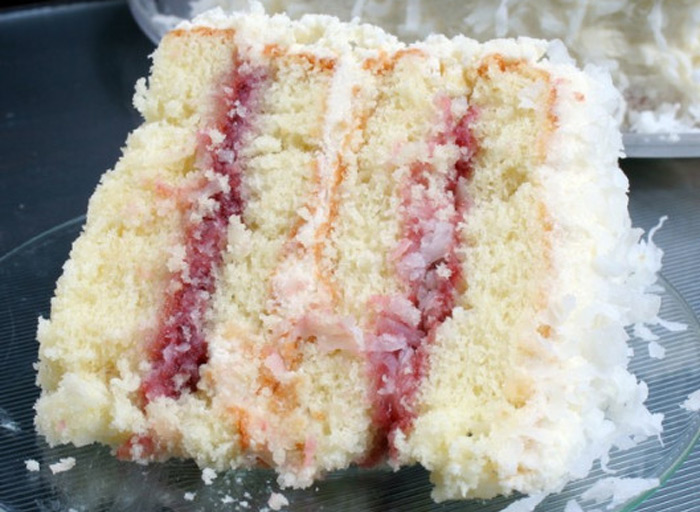 Preface: Before you look at the list of ingredients in this cake stop. The cake is really, really easy to prepare. Use whatever frosting you'd like, but try the cake…
After a weekend of being shut in with sick kids, the stir crazy feeling was overwhelming, so why not bake? I have been actively searching for coconut cake recipes to prepare for a friends upcoming birthday, and I am not brave enough to prepare a "first time" cake to be served publicly… score family.
We don't do coconut very often, yet no one, even the kids, will turn it down. The cake recipe is from one source, and the frosting from another with a little tweeking. Note, the cake batter uses powdered sugar. I have never seen this in a cake before, and was leery about it, but it was fantastic.
Speaking of frosting. I had a very hard time deciding the best type of frosting. Supposedly the "classic southern" coconut cake uses a whipped/meringue type frosting, verses a buttercream, but I grew up southern and buttercream was on every cake I've ever eaten. Anyway, this recipe intrigued me and settled my frosting dilemma.
Final thoughts? The cake is a keeper. Big time! The frosting was interesting. The original recipe was good, but not very "sweet" so I added some powdered sugar. I think it helped also to thicken the frosting slightly. I will definitely put the cake in my top favorites list, but will probably do a buttercream frosting next time. I just really want to find the "perfect" combination.
Has anyone tried the 7 minute frosting method? What did you think? Was it meringue like?
Cake Ingredients:
3 cups (297g) sifted cake flour (sift before measuring)
2 teaspoons baking powder
¼ teaspoon salt
1 cup butter, room temperature
1 pound (450g) powdered sugar
4 egg yolks, well beaten *Beat until well combined, about 1 minute
1 cup coconut milk
Please continue to Next Page (>) for the full list of ingredients and complete cooking instructions.