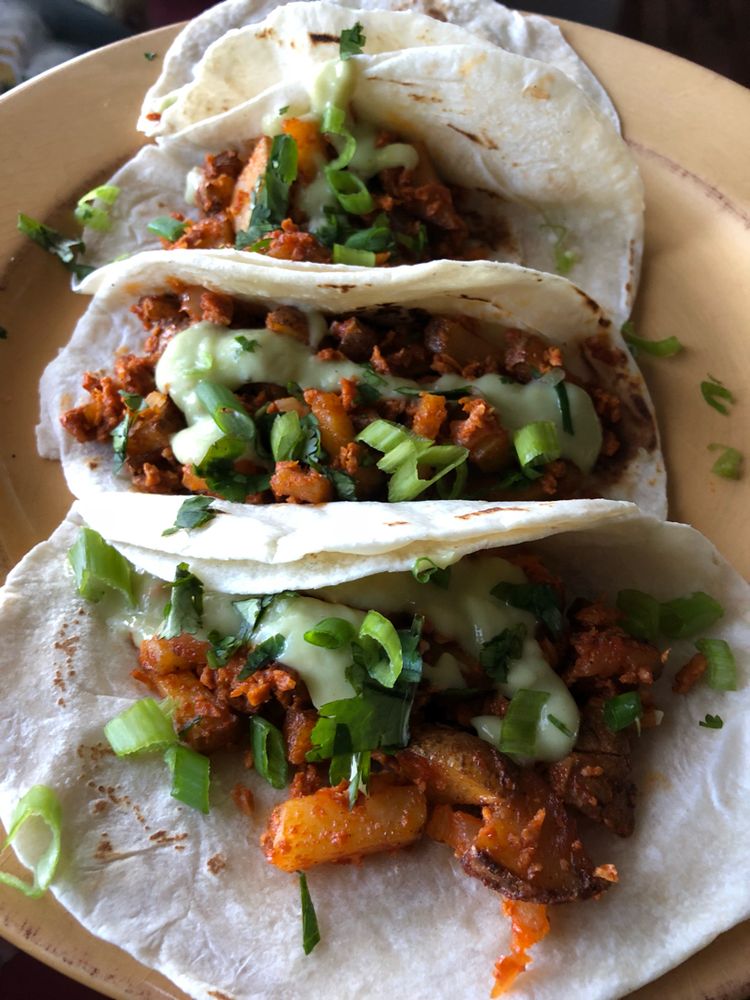 Ingredients : 
2 tsp vegetable oil 
1/2 lb ground Mexican chorizo 
2 russet potatoes, peeled and cubed into 1/2 inch cubes 
1 medium yellow onion, diced 
1 serrano pepper, thinly sliced 
2 green onions, thinly sliced 
kosher salt and black pepper, to taste 
2-3 large eggs, lightly beaten 
1 Tbsp unsalted butter 
soft taco sized corn or flour tortillas 
chopped fresh cilantro, for garnish 
salsa, for garnish 
sour cream, for garnish 
shredded cheese, for garnish 
Directions:
Heat vegetable oil in large skillet over MED HIGH heat.  Add chorizo and brown, breaking into crumbles until fully cooked and slightly crispy.  Transfer to a plate, reserving grease in the skillet. 
Add potatoes and onion, seasoning with salt and pepper to taste, and saute in the chorizo grease (adding a bit of vegetable oil if necessary), until potatoes are tender on the inside and crispy on the outside, about 12-15 minutes.
 
Add Serrano pepper and sliced green onions and cook for 1 minute more.
 
Add potato mixture to the cooked chorizo on the plate. Wipe out skillet to remove browned bits of food.
 
Add butter and heat over LOW heat. Add beaten eggs to skillet and scramble, seasoning with salt and pepper to taste. Once cooked, set aside.
 
Microwave or char tortillas over an open burner flame, until pliable and warm.
 
Top tortilla with potato and chorizo mixture, eggs, and garnish as desired. 
Enjoy !!