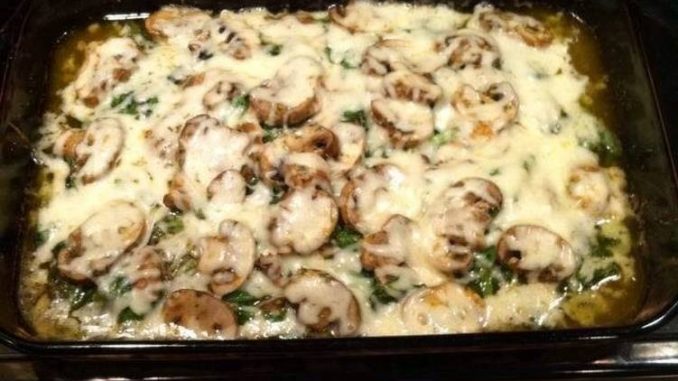 Make this incredible chicken mushroom spinach bake for a dinner the whole family will love! Featuring chicken and vegetables topped with cheese and baked to perfection, this recipe is a crowd-pleaser you'll want to make again and again! Watch the video or read the instructions below to learn how to prepare this wonderful dish.
Ingredients
6 thin sliced chicken breasts
1 container green onion cream cheese
1 Large package sliced mushrooms
1 small bag fresh baby spinach
1 dash Weber Herb and Garlic Seasoning
8 oz shredded mozzarella cheese
In a 9×13 pan, lay out chicken in single layer, top with spinach and mushrooms. Then sprinkle the seasonings over the top.
Soften cream cheese and whisk in olive oil and chicken broth. Pour over mixture. Lay piece of foil over the top but do not seal.
Bake at 375°F for 20 minutes remove foil and bake uncovered for another 20-25 minutes, then sprinkle Motz Cheese on top and Bake uncovered for another 10 minutes or until starting to brown. Let cool for 10 minutes and serve.