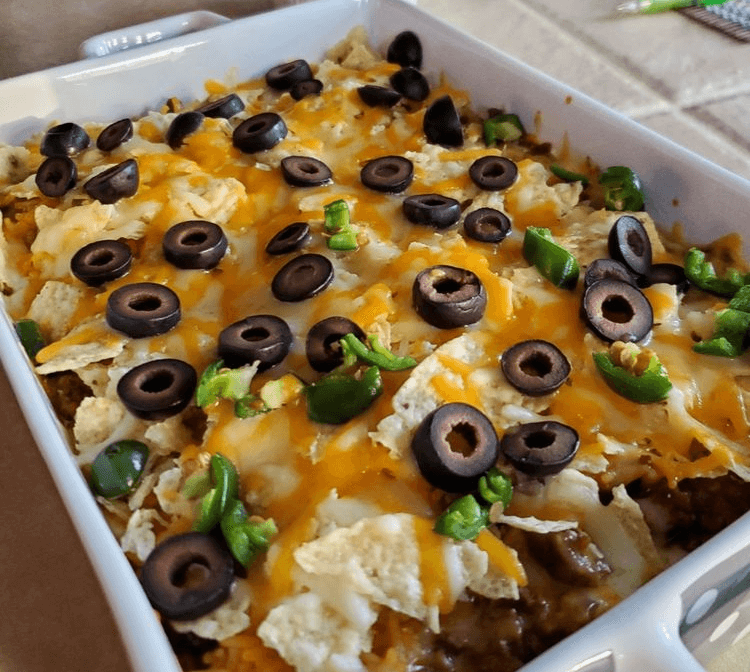 You know what's better than taco night? We'll tell you. It's taco night without the hassle of putting things together individually. Crumbly taco shells? No, that's okay. Taco meat getting cold before your third taco? (Because you obviously have to have at least three, that's what happens). Uh, no. We took everything from our favorite night of the week, taco night, and put it all in a hot pan. You're welcome!
The one change we made that most distinguishes them from typical tacos is our use of a cookie mix instead of tacos or tortillas. If we had used tortilla chips or real taco shells, they would have been soggy once all our delicious bonus ingredients were stacked on top. We found cookie dough to be a delicious compromise because it settles a bit into the beef, and its toughness allows you to stack all the other fillings you like! You don't need to get in the way here, just go crazy and make it the taco pan of your dreams.
We've settled for a fairly classic spread of sour cream, lettuce, tomatoes, olives and cheese, and the boy is that good. You could start with the cheese, tomatoes and olives, then add lettuce and sour cream, so you'd melt the cheese a little bit, but we like the look and taste of the way we did it and we stick with that! With your seasoned beef, your hearty cookie, your sour cream, lettuce, tomatoes, olives and cheese, you've got a perfect taco portioned to every spoonful – what else do you want? Nothing!
Taco Saucepan
1 hour to prepare services 8
INGREDIENTS
2 pounds of ground beef
1 packet of taco seasoning
4 eggs
3/4 cup of whole milk
1 3/4 cups of cookie or bisquick mix
1/2 cup sour cream
2 cups lettuce, chopped or shredded
1 cup tomato, finely chopped
2 cups strong cheddar cheese, grated
Black olives, sliced, optional
Kosher salt and freshly ground pepper to taste
PREPARATION
Preheat the oven to 400º F and lightly grease a 9×13 inch baking dish with nonstick spray.
In a large bowl, beat eggs and milk until blended, then stir in the cookie mixture, along with salt and pepper, if necessary. Set aside.
Season beef with salt and pepper and cook until golden. Drain off the fat and stir in the taco seasoning.
Place beef in an even layer in a greased baking dish and spread cookie dough evenly over the beef.
Transfer the baking dish to the oven and bake until the cookie layer is golden brown, 22-25 minutes.
Remove from the oven and let cool, then spread sour cream over the cookies.
Top with lettuce, tomatoes and chopped olives, if necessary, then sprinkle with cheddar cheese.
Serve hot and enjoy!