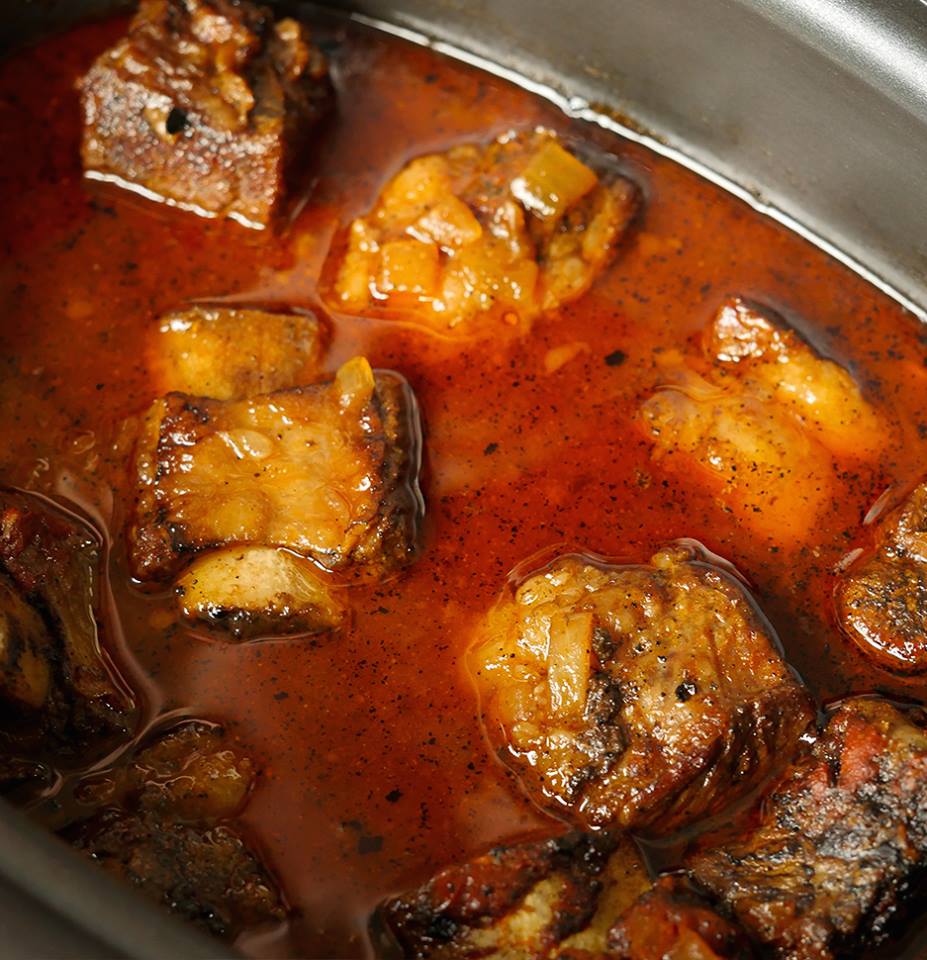 Is anyone else in the same boat of wanting to enjoy some tasty ribs at any given time, but feeling like you have to wait until the summer months roll around so you can dust off the barbecue? We hate not being able to enjoy something simply because it's not the season for it, so we thought we'd find a workaround to make some amazing short ribs without all the hassle of firing up the grill. That's what our slow cooker's for! That's right, with our trusty slow cooker we can whip up – not really, since low and slow is the way to go with these bad boys – some fall-off-the-bone short ribs that are perfectly tender and deliciously seasoned.
Impress even the most ardent meat-lovers in your life with these ribs and have them thinking that you slaved away over them. We first came up with an easy, flavorful rub to put on the ribs, then we seared and browned them on all sides before putting them in the slow cooker. Some spruced up BBQ sauce and a splash of beer add the perfect amount of flavor (that you can cater easily to your own preferences), then you just let it cook away! With some mashed potatoes and a side of greens you've got a great dinner, plus, any leftovers you may have you can throw into a stew later in the week. This is a great recipe to have on hand – you'll turn to it even when you could use the barbecue!
BBQ Short Ribs
3 hours to prepare serves 6
INGREDIENTS
4 pounds beef short ribs
2 cups barbecue sauce
1 yellow onion, chopped
1/2 can beer, optional
2 tablespoons honey
2 tablespoons mustard
2 teaspoons onion powder
2 teaspoons garlic powder
1 teaspoon paprika
1/2 teaspoon red pepper flakes
Extra-virgin olive oil, as needed
Kosher salt and freshly ground pepper, to taste
PREPARATION
Mix together onion powder, garlic powder, paprika, red pepper flakes, salt and pepper together in a small bowl until combined.
Rub mixture onto ribs, making sure to coat all sides, then set ribs aside.
Heat olive oil in a large skillet over high heat until oil is shimmering, then brown short ribs on both sides. Remove from heat.
In a second bowl, whisk together barbecue sauce, honey and mustard until combined, then brush mixture all over ribs.
Spread chopped onion along the bottom of slow cooker, then place short ribs on top.
Pour beer over the ribs, then cover slow cooker and cook on low for 6-8 hours, or on high for 3-4, or until meat pulls apart from the bone.
Optional: brush ribs with sauce again and broil for 5 minutes, or until crispy.
Optional: reduce BBQ sauce over medium-high heat for 10-15 minutes, or until thickened.
Serve hot and enjoy!
We have more recipes for you, you may like the following ones