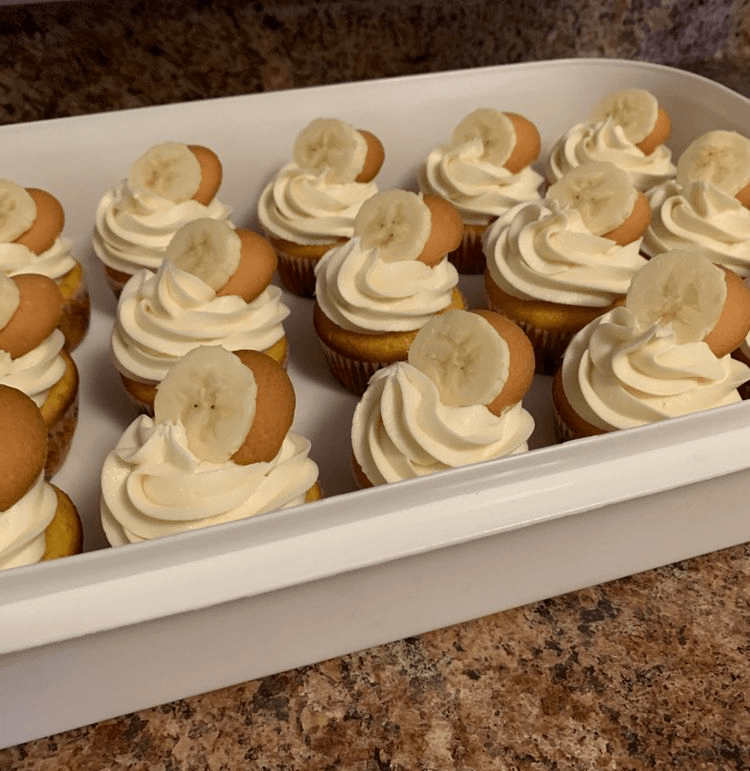 Banana Cream Pie… cupcake style! These cupcakes are loaded with flavor and I bet you can't eat just one.
They look and sound marvelous…easy to make…a save for me.
These are just adorable and could be used on for speical parties on my cupcake tree. Thanks for sharing looks very good too
These cupcakes are sweeeeeeeeeeeeeet. I love the layered look and they'd be perfect for a shower or birthday party.
Moist vanilla cupcakes filled with banana pudding and topped with whipped cream. I use homemade pudding and whipped cream for this recipe but you can use store-bought instead if pressed for time.
INGREDIENTS
CRUST
4 c Nilla wafer crumbs
1/2 c butter, melted
FILLING
1 small box, instant banana pudding or 1/2 lg. box; prepared
CAKE
1 box white cake mix, plus oil & eggs per package directions
1/2 banana, mashed
2 tsp banana extract
FROSTING
2 c heavy whipping cream
1-2 tsp clear vanilla extract
4 Tbsp powdered sugar
GARNISH
24 Nilla wafers
2 Tbsp raw sugar to sprinkle on top
INSTRUCTIONS
1. CRUST
Line standard muffin tins with paper liners. Mix Nilla wafer crumbs with melted butter and mix together thoroughly, either using a food processor or crush with a mallet in a large Ziploc bag. The mixture should stick when you pinch the crumbs but still stay light a fluffy when broken apart. Place one tablespoon of cookie crumbs in each cupcake liner and press down, forming a compact crust. Bake at 375 degrees for 4-6 minutes until the crust turns a light golden brown.
2. CAKE
Prepare cake mix as directed. Stir in banana extract and banana until well incorporated. Fill cupcakes liners with cake batter on top of the prepared crust, be careful not to overfill. Bake as directed on box.
3. FILLING
Prepare as directed and refrigerate until ready to use. Once cupcakes are cool, take a paring knife and cut a circle in the middle of the cupcake and gently lift out to create a hole for the filling. Pipe filling or spoon into hole and replace cake. It's okay if it is raised above the rest of the cupcake.
4. FROSTING
In a large bowl place 2 cups of heavy cream. Using a whisk or hand blender, whip until it forms soft peaks. Add the vanilla and sugar gradually as the cream begins to stiffen. Refrigerate for 30 minutes or until ready to use.
5. Frost or pipe the filled cupcakes, as desired. Sprinkle with raw sugar and top with Nilla wafer. Keep refrigerated.